Ukraine 0-2 France
France ride out the storm
France lightened the Donbass gloom with their football, writes Paul Marshall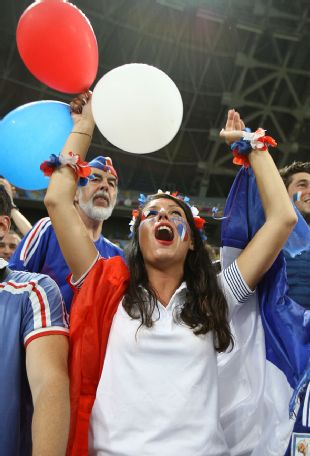 And the French say the English always talk about the weather. 'The sun rises in the east' was the headline on the print edition of L'Equipe before France's game with Ukraine; 'Weather for France: sunshine all the way' forecast the paper's on-line offspring after the 2-0 win in Donetsk. In between the clear spells, just like an English summer, it rained. A lot. But Laurent Blanc's men rode out the storm.
That's because during the thunder and lightning, they were comfortably sheltered inside the Donbass Arena while the majority of fans of both sides ran for cover before they had to swim for it. Though it held up the football, the amazing electrical storm that broke in the skies above Shakhtar Donetsk's futuristic home did eventually give us the opportunity to marvel at Björn Kuipers throwing the ball and watching it roll on the sodden turf. The Dutch referee flanked by men in UEFA suits, one of whom pointed to his wrist as if to say 'Hurry up, I'm missing EastEnders.' The stadium DJ who played Adele's 'Rolling in the Deep' while all this was going on deserves an Oscar nomination for Best Original Soundtrack.
Fortunately, when the football finally resumed, France provided even more of a spectacle.
D'Artagnan-esque, Blanc had fenced clever with the media prior to the match over his team selection. "I could make one or two changes," he said before pausing for dramatic effect. "Or, I could pick the same team that played against England." The main question had been over the inclusion or continued exclusion of Yann M'Vila in central midfield with the Rennes man fit again. M'Vila had gone fishing between games, and he could have done so again from the substitutes' bench as Blanc decided Alou Diarra's almost spotless display in the match with England ensured he kept his place. Others were not so fortunate.
One to miss out was Florent Malouda. He had been given a strawberry tart on his birthday on Wednesday, and could have his cake and eat it in comfort after being replaced numerically by Jeremy Menez and positionally by Samir Nasri, who moved into the playmaker role occupied by the Chelsea man against England while Menez moved to the right of Blanc's beloved 4-2-3-1. Though the France coach has often stated his desire to play Nasri on the right, he might well be tempted to leave the Manchester City man where he is. "If we have great players, they have to show it on Friday," Blanc had declared. Nasri did.
Following celebration-gate, there was increased scrutiny on Nasri, but he answered his critics without having the opportunity to vent his vitriol towards any member of the media in particular. His poise on the ball, as well as his set-pieces, suggested he is settling into the responsibility Blanc has put on his shoulders of being one of the creative leaders of the team. He, Menez, Franck Ribery and Karim Benzema linked up promisingly on a number of occasions, and the quartet showed enough to suggest Blanc may well have stumbled upon the right combination in attack. "Liberate yourselves!" had been Blanc's order to his attacking talents, and though they did not quite burn their bras, they did play with a certain freedom.
With better finishing, Menez might have had a couple of goals more to add to the game's opener, and though Benzema did not score, Blanc will have been delighted with how the Real Madrid striker dropped a little deeper before picking the pass that fit snugly into the run of Yohan Cabaye from midfield.
The Newcastle United midfielder was, once more, one of France's most magnifique performers. His arrival in England from Lille last summer was greeted with only muted 'hurrahs!', but the 26-year-old has shown he can make the step up to the Premier League, and appears to be rising to the challenge of international football with similar ease. Though fortunate with the break of the ball for his goal, his first for his country, the timing of his burst forward evoked memories of another midfielder of stronger north-east connections, Bryan Robson; a comparison only strengthened by his striking a post following another timely move to the edge of the box.
While Cabaye continues to impress, however, there are still creases that need ironing out in France's game.
Conscious of how a repeat of his team's slow start in their opening game "could be fatal" against "a super side", Blanc had asked his players to be "awake from the first second." Given there was a massive clap of thunder before kick-off, they probably were, but though they did not exactly nod off during Mother Nature's 56-minute show-stealing cabaret act, it is hard to quibble with Ukraine coach Oleh Blokhin's assertion that "the first half was even". Unlike against England where Blanc had conceded it had taken Joleon Lescott's goal to get his side into gear, France did create chances before the break, and they would have been ahead but for Andriy Pyatov denying Menez and Philippe Mexes, in particular.
But those opportunities stemmed in the first instance from a wonderful through ball from Ukrainian midfielder Anatoliy Tymoshchuk to his Bayern Munich team-mate Ribery, and a set-piece, admittedly well-delivered, in the second. France could have even found themselves behind at the break had Hugo Lloris, who admitted he had been badly positioned for Lescott's goal, not got his angles right to deprive Andriy Shevchenko of yet more lustre with which to embellish his Ukrainian legend.
Pre-match, Blanc had reminisced about meeting a younger 'Sheva' as a player, remarking that though "he is so cunning and intelligent in his movement that he is still effective", the Ukraine captain "does not have the legs he had at 20". That being true, Blanc - seen chatting and laughing with Shevchenko during the storm break - will have been dismayed to see the 35-year-old outwit and then outpace Adil Rami, age 26. The sight in the second half of the Valencia defender hanging off the former European Footballer of the Year like a small child trying to show an uncooperative adult a toy in a shop window – all of which failed to prevent Shevchenko flashing a ferocious shot just past the angle of post and bar – may persuade Blanc that Laurent Koscielny could do better.
Mexes, excellent against England, was once again solid enough, and he ripped off his shirt after the game to show off his new, muscular – definitely not fat! – physique. Blanc, however, still has a problem at left-back: Gael Clichy, the other change to the starting XI from the England match in place of Patrice Evra, seemed to have absorbed the Manchester United man's impaired sense of space. The first time, Andriy Yarmolenko was not spotted in the sort of grassland a herd of wildebeest would normally graze in; the second time he was and – in the words of John Barnes – he got "around the back". Nothing came of it, perhaps, but future opponents will have taken note.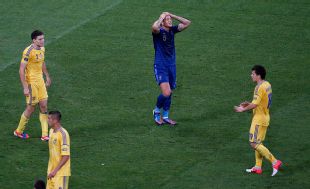 Still, having asked his team to follow the example of Germany, Blanc will be content his players have – like the Nationalmannschaft – edged to within touching distance of the quarter-finals. Ribery, that most Deutsch of Frenchmen, showed the 'V' sign to the camera as he walked off the pitch after the final whistle. He did it in the manner of an Englishman mocking the French, and though he probably did not mean to, he could easily have been taunting Roy Hodgson's men.
Though England managed to match France's points haul on the night, they cannot boast a 23-game unbeaten run like Blanc's side can, an eye-catching streak that includes sixteen wins. "Six years in official competition is long," said Blanc post-match in Donetsk, the scene of Les Bleus' first competitive victory since the 2006 World Cup in Germany. "I hope the next one won't take six years. If it does, I won't be here to talk to you about it. I'll have been fired long before that." Even though he has yet to agree a new deal with the French FA, Blanc should not worry. The storm his side are brewing in the tournament means next Tuesday's meeting with Sweden will only strengthen his immediate job security.