Ukraine 0-2 France
Blanc glad to end hoodoo
France coach pleased as his side end winless run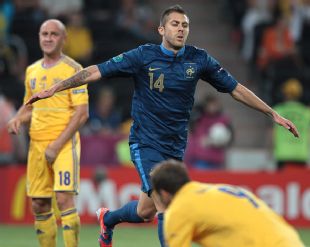 France coach Laurent Blanc was a relieved man after his side finally snapped their record-breaking winless run at major tournaments with a rain-affected 2-0 win over Euro 2012 co-hosts Ukraine.
Goals from Jeremy Menez and Yohan Cabaye secured France a first win in eight games at major finals in a match that was suspended for nearly an hour after a torrential downpour in Donetsk.
Once the game restarted France were wasteful in front of goal but they broke the deadlock in the 53rd minute and added a second three minutes later to kill off Ukraine.
"We'll enjoy this one. As the French know very well, it's been a long time since we won a game at a major tournament,'' said Blanc. "We're very happy to have won. Six years in major competitions and to not win a game is a long time.
"I hope our next win isn't in six years. If it is, then I won't be here to talk about it because I'll have been fired long before.''
Blanc praised the officials and stadium staff for the way they handled the break in play and he said he was pleased the way the playing surface coped with such a deluge of water.
"When the game was suspended our fear was that we wouldn't get to play it. We really wanted to play; we'd prepared for it,'' Blanc added.
"After our slow first 30 minutes against England this time the weather stopped us making a proper start to a game. The stadium staff responded well and everything went how it should.
"We were worried the condition of the pitch would make it difficult to play our game - and we had some plans in place in case it did - but we quickly saw that the pitch was in good condition.''
Ukraine coach Oleg Blokhin blasted his side for the complacency they displayed after their win against Sweden and said they would need to perform at a much higher level if they are to beat England in their final game.

"As I said, the win against Sweden didn't mean anything, so if we thought we were through, we were wrong,'' he said. "I think some players thought that and we'll have a serious conversation with them.
"This European Championship isn't the Ukrainian league we have to play at a higher level and game after game. I didn't like how my team stopped playing after the second goal but we lost and France are one of the best teams in the competition.
"Everything went wrong from the break and that led to first goal. After that, we conceded the second and it was all over. We will analyse this. Of course, we are not happy. The fans aren't happy and nor am I. But I can't change anything; I can't change the result.''