Poland news
Smuda: 'Most important match'
Co-hosts must beat the Czech Republic to progress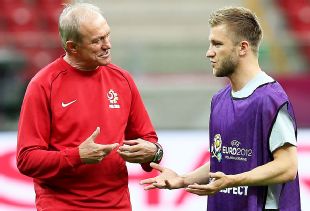 Poland coach Franciszek Smuda is sure that his side are focused ahead of what he described as his side's 'most important match' against the Czech Republic on Saturday.
Smuda oversaw a 1-1 draw against Russia – thanks to Jakub Blaszczykowski's spectacular equaliser in Warsaw on Tuesday – which keeps them in the hunt for a place in the quarter-finals. The co-hosts have to win to progress, but the coach is confident that his men can pick up a historic victory.
"I think this euphoria, these positive emotions [after the Russia game], were kept in check," he said. "We tried to maintain our composure, and I feel that the team is as focused as they were before the Russia game.
"Each match is extremely important, but probably this is the most important match of my life, and for the whole team. We simply have to remain calm. Our team doesn't feel under a lot of pressure though. There is pressure, but it's not as high as before the game against Greece."
Smuda's opposite number, Michal Bilek, may be boosted with news of Tomas Rosicky's fitness but the coach is not underestimating the task ahead.
"We are enjoying ourselves in Poland, and the Polish fans have supported us, but now it's us or them, and we'll do our utmost to achieve our objective," said Bilek, who may only need a point to progress.
"Players like Blaszczykowski and Lewandowski are top-class, and we'll have to pay attention. We respect our opponents, but we're not scared. We showed our class in our second match, and want to go through. We don't want to say goodbye to the Euros just yet."