Italy news
Buffon frustrated by Croatia draw
Italians face anxious final group game after Mandzukic equaliser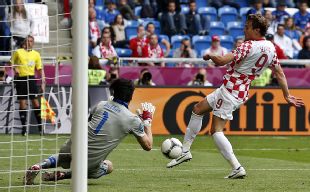 Italy goalkeeper Gianluigi Buffon has voiced his frustration after the 1-1 draw with Croatia left the Italians facing a nerve-wracking final day in Group C.
Italy took a first-half lead against Slaven Bilic's side, but Mario Mandzukic blasted in his third goal of the tournament to level in the second half – meaning Cesare Prandelli's men need to beat Ireland to give themselves a chance of reaching the quarter-finals.
Buffon lamented Italy's failure to make the most of their first-half display and said Croatia's goal had punished their only mistake of the match.
"I think we played very well, trying everything to win the game," he said. "Unfortunately, we should have scored more goals when we created a few chances in the first half. It's a pity, because we played really well in defence but they punished our only mistake of the game.
"However, I feel I can say that we are playing well – we just need to be more clinical and try to kill games when we have the chance. We feel we will qualify if we manage to win the last game against Ireland."
Midfielder Claudio Marchisio said Italy must "try everything to beat Ireland and see what happens." He added: "We are disappointed now because we lost two points that we would have deserved.
"In the second half we did not play as well as in the first, but I think we were in control until their goal came. I think we deserved to win this game."
Prandelli lamented what he called a "wasted opportunity" against Croatia, but said: "We're still convinced we can get through – mathematically we are not out of it, and I don't think we lack character in any way, shape or form."