Ireland news
Trap vows to restore Ireland's pride
Irish crash out of Euro 2012, but final group game crucial for opponents Italy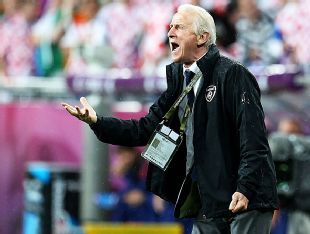 Ireland coach Giovanni Trapattoni promised to restore the pride of players and fans after two morale-sapping defeats saw the Irish become the first team to exit Euro 2012.
The Italian guided his team to the final stages of a major tournament for the first time in ten years - but a 3-1 defeat to Croatia, followed by a 4-0 hammering by the defending champions Spain, left them rooted to the bottom of the Group C table.
They face Italy in their final group match in Poznan on Monday – and with the Italians needing a win to give them a chance of getting through to the quarter-finals, 73-year-old Trap has warned his countrymen to expect no favours.
"I need to think about the Irish team," he said. "I have to think about how disappointed our players are, and the Irish people, who deserve a lot of respect. We came here with confidence and enthusiasm. They cheered us when we were behind, and the players mustn't forget this.
"We have to make sure that Ireland finish the game with our heads held high. If Italy go through, it has to be because they played well and with the right attitude."
He said "fear and tension meant that we have made mistakes we didn't make in the qualifiers," adding: "I will ask the players how it is possible, after two games, we have conceded two goals in the opening three or four minutes.
"Something has changed from our qualifying campaign. We can see the weight on the players' shoulders, but I haven't seen this in training and I am sad about this."
Trapattoni paid tribute to the outstanding quality again shown by Spain, who - like Croatia - didn't look back after scoring an early goal as Ireland's defensive organisation, such a feature of their qualifying campaign, disintegrated.
The Ireland coach said Vicente del Bosque's men knew how to win "with their eyes closed" and compared them to an orchestra because of the way in which all their players have such consistent involvement in how they move the ball.
"Spain demonstrated, even if we knew it already, that they are a team that can win," he said. "They showed they are a side that, because of their technical ability, doesn't actually use up a lot of energy at all.
"Vicente knows his players very well - they all play for the two biggest sides in Spain, and that's a huge advantage for them. When I was in charge at Juventus and the national team took seven or eight players from Juventus, Italy won the World Cup because the players knew already what they had to do.
"They could do it with their eyes closed, and that's exactly what Spain are like at the moment. It's like an orchestra - they involve everyone in the way they move the ball."
Damien Duff admitted Ireland had "shot themselves in the foot" as they again conceded an early goal in each half – the same scenario that brought about their downfall against Croatia.
"We didn't help ourselves," he said. "You are going to be pulled all over the place with them, but we shot ourselves in the foot again."
But he insisted the Irish would be ready for their final group game against Italy, adding: "We will get ourselves up for it. We are a proud set of lads and a proud nation.
"We want to give people back home - and the fans last night especially - something to cheer about."
Fernando Torres may have stolen the show with two goals, but Ireland's magnificent support remained undaunted – and noisy – throughout.
Midfielder Keith Andrews, one of Ireland's better performers on the night, said: "The fans were an absolute credit to their country, and unfortunately we have not been able to give them what they deserved. With seven or eight minutes to go, all you can hear is the Irish fans - and we're losing 3-0 or 4-0."