Russia news
Russia appeals against sanctions
Country's football union issues new plea to fans to behave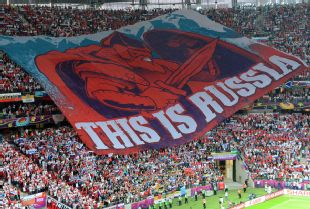 Russia's football union has announced that it is to appeal against sanctions imposed by UEFA after improper behaviour by Russia fans at the match against Czech Republic on Friday.
UEFA imposed a suspended six-point penalty in qualifying for the 2016 European Championship, to be imposed if Russia's fans misbehave again, with the action taken after fireworks were set off and "illicit banners" displayed amongst supporters in Wroclaw. The union was also fined €120,000.
A statement on the Football Union of Russia (RFS) website said: "The Russian football federation is entitled to prepare and submit a written appeal against UEFA's decision, and this will be done within the allotted time for this procedure. The federation will do all it can to ensure the national team avoids such a severe punishment."
The statement also voiced strong opposition to violence and, in a direct appeal to supporters, stressed: "More than ever, the Russian team needs the united support of the best Russian fans in the world, and not the bills being run up by hooligans putting their own interests above those of the national team."
A UEFA statement after the imposition of the sanctions on Wednesday said: "The UEFA Control and Disciplinary Body has decided to impose a deduction of six points on the RFS in the qualifying round of the next UEFA European Football Championship.
"The RFS was facing charges for the improper conduct of its supporters (crowd disturbances), the setting off and throwing of fireworks and the display of illicit banners at last Friday's match against the Czech Republic in Wroclaw."
Russia could face further sanctions after UEFA confirmed it was still investigating allegations that Czech defender Theodor Gebre Selassie had been subjected to monkey chants during the match.
On Sunday, the RFS issued a joint statement with the players in which it urged fans to behave. It said it would look to claim compensation from those involved in trouble if UEFA imposed fines to punish it for the misbehaviour of supporters.
Russian and Polish fans clashed before the second Group A game in Warsaw on Tuesday night, prompting European football's governing body to open another disciplinary case.
A giant "This is Russia" flag, which could be interpreted as referring to decades of Moscow control over Poland during the Cold War and was unfurled during the Poland match, landed the RFS in further potential trouble.
UEFA, which also began proceedings against co-hosts Poland over the violence, said the incidents would not impact on Russia's suspended six-point deduction, announcing that the new cases would be dealt with this weekend.