Czech Republic news
Cech confident about form
Goalkeeper had tough time in win over Greece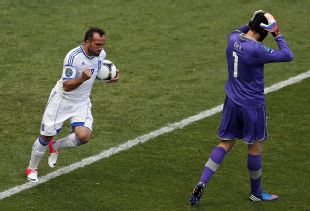 Petr Cech is positive about bouncing back to form and helping Czech Republic book their place in the knockout stages of Euro 2012.
The Czechs revived their challenge with a 2-1 win over Greece, but they were made to sweat as a howler from Cech handed their Group A opponents a lifeline.
Poland lie in wait in the final group game and Cech will be in the spotlight but the Chelsea man is confident of hitting top form.
"Winning the Champions League gives you confidence but the two games have not been ideal," Cech said. "People look at the mistakes and judge you on that but I played well, generally.
"I made a mistake but I was confident we would win."