Sweden news
Thern derides England 'delusion'
Ex-Sweden star says English have 'chronic illusion of world football supremacy'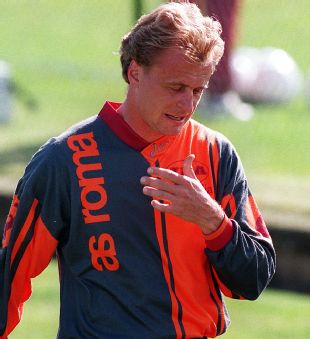 The former Sweden star Jonas Thern has lashed out at England, saying the nation has a "chronic illusion of world football supremacy" and the national team plays a "predictable and stereotyped" game.
- Sweden trust history against England
Thern, part of the Swedish team that finished third in the 1994 World Cup, said Sweden would win Friday's Group D encounter in Kiev. And in a withering assessment of England, during which only coach Roy Hodgson was spared scathing criticism, he said people who believed the team had played well against France were "deluded".
"Apparently the one shot towards the France goal over 90 minutes was all it took to ignite the chronic English illusion of world football supremacy," he said.
"I said before the Euro finals started that Sweden would beat England, and I stand by that statement despite the horrific display [in a 2-1 defeat] against the Ukraine."
Thern, who pointed out that England have not beaten Sweden in seven tournament clashes - and that he had played in two wins and two draws against them - said the performance against France had "none of the quality they like to boast it had."
"France had 15 shots on goal compared to England's one," he said. "Their style of play does not intimidate as it is predictable and stereotyped. England have historically struggled against Sweden as our strength is the physical game. Sweden does not fear this style of football in ways that other teams do."
But in a late complimentary moment that seemed almost like an afterthought, he said: "The only thing that could have been better for the Swedish team would have been if the manager position had been handed to somebody other than Roy [Hodgson] as he is a very competent manager with substantial international experience."
Earlier, the Sweden vice-captain Anders Svensson said arrogance was behind England's poor record in matches against his country.
Until a narrow win against the Swedes in a Wembley friendly towards the end of last year, England hadn't chalked up a victory against them since 1968 - a run including four defeats.
Speaking as Sweden prepared for what he described as the "win or die" clash in Kiev, midfielder Svensson said the two nations were now footballing equals.
The former Southampton player said: "I just think maybe you think you are a little bit better than you are - but we are a little bit better than you think we are.
"Obviously, you have big names, big players. You have a great team, but I think you don't think that much about the Swedish team and never have. We are a good team, on the same level as England, and have been for a long time."
Svensson denied there was unrest in the Swedish camp after reports suggested Zlatan Ibrahimovic had voiced anger at some team-mates following defeat in the opening game against Ukraine. "There was no frustration from any player," he said. "There was no problem at all."
But the Ukraine result has piled the pressure on Sweden, and Svensson admitted: "I think we need to win against England to go forward. It will be win or die. It's two knockout games [remaining]."
Ibrahimovic, who now occupies a deeper playmaking role for his country, suffered a thigh injury but is expected to return against England.
Defender Jonas Olsson also dismissed reports of rifts, saying: "I don't know where that has come from. One of our biggest qualities is that we are a very nice group and very happy together."