Netherlands news
Dutch in state of disbelief
Wesley Sneijder clinging to qualification hope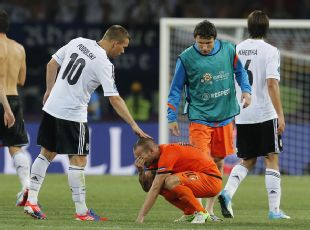 Netherlands midfielder Wesley Sneijder has admitted defeat to Germany has left him in a state of disbelief.
The Dutch's Euro 2012 hopes are hanging by a thread as defeat to Germany followed on the heels of their shock loss to Denmark.
Netherlands face Portugal in their final group game knowing that they need to win well and hope Germany see off Denmark. It is not inconceivable that the Dutch can scrape through, but Sneijder is in a state of shock.
"It's mainly disbelief that I am feeling right now," he said. "Having said that, we know that our game needs to improve. We need to get our routines on the pitch back, the things we are used to, the courage to play. Maybe in that last game, because we know we have to win it, there'll be no other chance. It's all or nothing on Sunday, and perhaps we can bring our own football back in that game."
Klaas-Jan Huntelaar was introduced as a second-half substitute in the loss to Germany and he hopes Robin van Persie's goal can prove vital.
He said: "We were lucky that we scored because I think if we beat Portugal by a goal difference of two goals, we still have a chance, so that's what we're hanging on to. We never give in, that's what we will focus on."