Sweden news
Olsson praises 'top boss' Hodgson
Swedish defender lauds former West Brom manager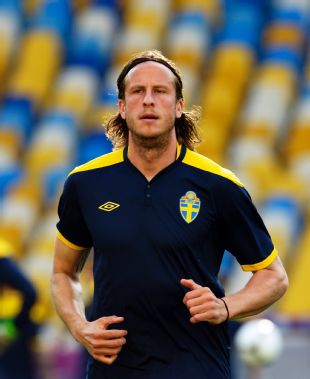 Sweden defender Jonas Olsson believes that his former West Bromwich Albion boss, England coach Roy Hodgson, will get the best out of the Three Lions this summer.
Olsson, 29, played under Hodgson for two years at The Hawthorns and believes that the experienced manager is setting his England side up in a similar manner to the Baggies this campaign.
Ahead of the two sides meeting in Kiev on Friday, Olsson was quick to blame the English media for criticism of the side's draw with France.
Olsson said: "The way England played against France is very similar to the way Roy Hodgson set the team up at West Brom. It's an organised team, they defend well and are good on the counter-attack with the pace they have upfront from (Alex) Oxlade-Chamberlain, (Danny) Welbeck and (Theo) Walcott.
"Roy is a top, top coach. I really enjoyed the time under him at West Brom. He is experienced and is good at inspiring players, and he is a very nice man as well. That is important, that you connect with someone you are working with on a personal level as well and have that respect for him. That respect will make you go those extra yards for him and I'm sure the England players will feel the same.
"With the English media, no matter how England set up, the coach will always get criticised. Roy has been criticised by some from day one but he is experienced and I'm sure he can cope with that.''
Reflecting on Sweden's opening 2-1 defeat to Ukraine, Olsson expressed disappointment with his side's performance. However, qualification remains in their own hands with wins over England and France.
"We were disappointed to lose after going in front. Had we kept the lead for another few minutes, I think the outcome would have been different. We are in a position where we can't lose any more games and hopefully we can win both.
"We will focus on Friday first, try to get a good result there. It will be nicer to win both games and not be depending on other results. The old cliche applies that it's still in our own hands. If we win the last two, we will get through.''