Spain news
Spain may stick with Cesc
Del Bosque not certain to select striker against Ireland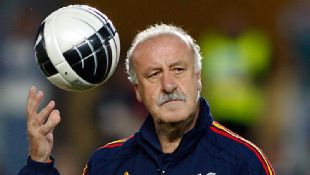 Vicente del Bosque has said Spain could again line up without a recognised striker when they face Republic of Ireland on Thursday.
Del Bosque was criticised for fielding a front three of Cesc Fabregas, Andres Iniesta and David Silva in the 1-1 draw against Italy, with Fernando Torres, Fernando Llorente and Alvaro Negredo all on the bench.
Fabregas scored Spain's equaliser, but his side were able to fashion a series of chances after the introduction of Torres as a late substitute and some felt they looked a more dangerous team. Del Bosque, though, says he will not be swayed and may keep faith with the tactic.
"Against Ireland we will play a No. 9 - though it depends what you understand by a No. 9," he said. "David Silva is a forward. Andres Iniesta plays like one; so does Cesc. We have four options: the three everyone is aware of (Torres, Llorente and Negredo) and then that of Cesc. Those are all very good attacking solutions. I am not unhappy with the options we have.
"The only thing that interests us is what is in the interest of the team. The opinions of others surely have interests distinct from our own."
Del Bosque later added: He said: "We trust all of our three strikers. All of them can play and we know all of them will do everything for the team. We have used Llorente - he helped us to become champions and he is a different player. We played in Brussels with one forward and we put another forward on instead of Fabregas. Sometimes, it's a question of football.
"We are really confident about our strikers - that's why we brought them here. But we have played just one match and we could use all of them. You can only make three substitutions, so everybody can't play."
Athletic Bilbao's Javi Martinez has said the players are not concerned by the public clamour for Spain to field a striker.
"They are debates for the bar, for the press, for the street," he said. "We don't think about those things. We have a coach, and what he says and thinks is what is important to us. We're okay and I think the team is fine."
Torres also came in for criticism after missing two gilt-edged chances against Italy, but Martinez is confident that the Chelsea man will not be affected.
"Fernando has been a professional for ten years," Martinez said. "He knows how these things work. The criticism about not scoring a goal in the first game will turn into praise if he scores one or two against Ireland. Then he'll be the best in the world again. Footballers know how to cope with these things."