Czech Republic news
Don't boo Baros, says Czech coach
Michael Bilek unhappy as supporters jeer player during victory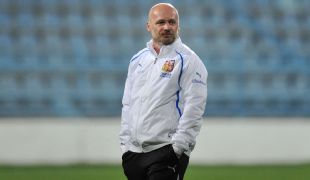 Czech Republic coach Michal Bilek has urged fans to lay off Milan Baros, who was booed during the 2-1 victory against Greece.
Bilek – who was also targeted by Czech supporters – has admitted he is not a popular coach, but said he was more concerned about the effect of the booing on his players.
The Czechs, who lost their opening game 4-1 to Russia, hung on for victory against the Greeks after going two goals in front with only six minutes played.
And although Bilek praised the country's fans for generating a good atmosphere, he said: "I am grateful for their support but I am really sorry that they still whistle at Milan Baros. Baros has scored 41 goals for the national side and he doesn't deserve it.
"The fans made a great atmosphere and rooted for us, but the whistling is unnecessary as it is a team sport and the other players are also upset by it. They can feel it and they are sorry, as they are a team and Milan Baros is one of them.
"All players need the fans' support, not just some of them. We are here to go on and the fans need to show support even when the guys are less successful."
He said he was "of course not happy" about the supporters' reaction towards him, but admitted: "I know I am not very popular in the Czech Republic as a coach and I am sorry about that.
"But there is nothing I can do about it and I am more disappointed when they shout and whistle at the players."
His Greek counterpart Fernando Santos said his side had paid the price for their shambolic start and lamented the absence of first-choice centre halves Sokratis Papastathopoulos and Avraam Papadopoulos.
Santos said: "It was a game which started really badly for us. At the start we conceded two goals, although we had been warned that they would start quickly.
"We knew they would put pressure on us, but we failed to respond. Unfortunately, the first ten minutes really cost us."