Poland 1-1 Russia
Blaszczykowski lauds Smuda tactics
Poland hero pleased with draw, Russia coach rues dropped points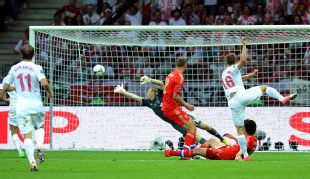 Poland midfielder Jakub Blaszczykowski lauded his side's tactics as Poland grabbed a well-deserved 1-1 draw with Russia in Warsaw on Tuesday night.
Blaszczykowski, 26, scored a stunning second-half equaliser to give his side hope of claiming all three points, with the hosts having previously been frustrated by the outstanding performance of Russia goalkeeper Vyacheslav Malafeev.
The result now means that Poland will qualify for the quarter-final stage should they defeat Czech Republic - who defeated Greece earlier on Tuesday - on Saturday.
"When you score an equaliser like that, it gives really good energy to the team. [Poland coach Franciszek] Smuda got his tactics spot on, and we followed them through on the pitch." Blaszczykowski told the official UEFA website.
"We're still in contention, and if we win our final game [against the Czech Republic] we're through. We'll fight until the end. We've proved we can play a good game and achieve good results. The supporters can make a difference and we must believe in ourselves. If we have the attitude and get energy from the fans we can show them that we deserve their support."
Smuda admitted to his relief after the result, adding: "The pressure is always there. It is not getting any greater - in fact it was probably at its worst before the first game. Now that the tournament is up and running, and the first game is out of the way, the adrenalin level is lower and the pressure is dipping.
"Now we have a few days to prepare and to rest, to recover and regain our freshness. The supporters were behind us, and that was great, but it was the same in the first match. They were good all the way through that first game too. When it comes to preparing for the next game, we will have to wait until our injured players have been examined by the team doctor so we know if there is anything serious we have to contend with. We will find that out tomorrow afternoon."
Meanwhile, Russia boss Dick Advocaat felt his side had done enough to earn a victory. He said: "Russia were the better team and Igor Denisov had a very good game, but when you score a goal like he [Jakub Błaszczykowski] did, you must be a good player. It was a nice goal. Maybe he was man of the match officially, but for us Denisov was the best player.
"I thought Russia were a better team than Poland today, but it was a very good game and we played really well, and it was a pretty good result because they had 40,000 people behind them, and that is a big advantage. The first win was nice, and I really thought this one was going to end 1-0 because we controlled the game.
"We won that first game 4-1, but this one was like an away game, and you just have to accept that their equaliser was a beautiful goal. If you are objective, you would say that both teams worked hard, but Russia had more possession and created more, but you have to give both sides credit for the way they played.
"For me, Russia are the best team in the tournament so far in terms of the way we have played. What did I say to Franciszek Smuda on the way out of the press conference? I wished him a pleasant evening."