Netherlands news
VdV questions Germany quality
Claims only Ozil, Gotze and Schweinsteiger are real quality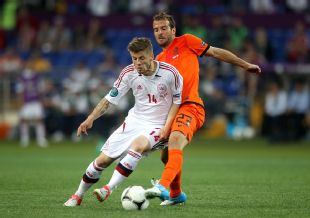 Netherlands may be on the back foot following their defeat to Denmark, but Rafael van der Vaart has come out firing by claiming Germany have only three players of real class.
- Blog: Dutch worst case scenario
- Blog: Subs costly for Germans
There is little love lost between the two nations and Germany have the incentive of knowing victory over the Dutch on Wednesday will eliminate the Oranje from the competition.
Netherlands are still picking up the pieces from their loss to Denmark, but Tottenham star Van der Vaart is confident of bouncing back in Kharkiv against a side he feels are lacking in class.
"I can count only three outstanding players in the Germany squad: (Mesut) Ozil, (Mario) Gotze and (Bastian) Schweinsteiger," he told NUsport. "Their defence is okay, but that's all.
"I think we have more quality. But football is also about confidence, and that's what they will have now."
Van der Vaart has been a fringe player for Dutch coach Bert van Marwijk and despite the loss to Denmark, he does not expect that to change.
"The chances are small that things will change," he said. "The coach has always had his team in his head, his preferences. It has been the same for some time, which is good if you are in the team but not so much if you are on the bench.
"I must say that it is increasingly difficult for me. One day I feel better than others, but I am very disappointed about my situation."