Ireland news
Richard Dunne eases injury fears
Ireland defender has been struggling with blisters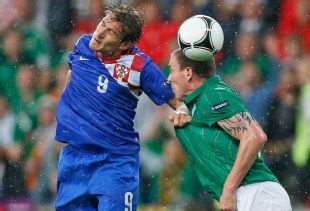 Richard Dunne has eased concerns over his fitness by taking part in a full Ireland training session on Tuesday.
- Blog: Croatia break Irish hearts
The Aston Villa defender, a key figure for Giovanni Trapattoni, sat out Monday's workout on account of blisters. The Ireland coach insisted it was just a precaution and Dunne was back on the field 24 hours later after having treatment on his feet.
Ireland were beaten 3-1 in their Euro 2012 opener with Croatia and face Spain on Thursday knowing defeat will eliminate them from the competition.
Trapattoni put his 23 players through a rigorous training session and striker Kevin Doyle claims they have shrugged off the loss to Croatia and are determined to bounce back.
"We aren't despondent," Doyle said. "We lost but that was our first defeat in 15 games. We will bounce back and see Thursday as an opportunity to do so. We will assess things and chat about what we have to do to come back stronger."