France 1-1 England
'Mixed feelings' for Blanc
France coach content with 1-1 draw against England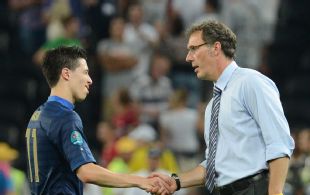 Laurent Blanc had "mixed feelings" after France's meeting with England in their Euro 2012 Group D opener ended in a 1-1 draw on Monday evening.
France found themselves a goal down on 30 minutes when Joleon Lescott headed in from Steven Gerrard's cross, but Les Bleus responded before the break as Samir Nasri fired past goalkeeper Joe Hart from outside the box.
Blanc felt the result was ultimately a fair reflection of the match, with the coach's attention now turning to Friday's meeting with co-hosts Ukraine in Donetsk.
He said: "We have mixed feelings, but I think the English feel the same. England had a very good 20 minutes, but paradoxically we got back in the match after we conceded. They caused us problems, but we got a deserved equaliser and in the second half we could have scored a second, even if there weren't too many chances.
"Overall, I think the draw was fair for both teams. The fact that it was hot on the pitch didn't favour the side that attacked most, and France attacked most. We're disappointed not to have won it but glad not to have lost. And we didn't deserve to lose.
"I thought we were timid at the start and I don't know why. England didn't dominate but they had chances. We don't want to repeat that experience of starting slowly but maybe it was something we needed to get over. I hope we'll be ready from the first minute in the next game."
Blanc reserved praise for goalscorer Nasri, adding: "We've always supported Samir. Coaches always want their talented players to live up to their potential, but you have to be patient with some players more than others.
"Nasri needed that and he rewarded us tonight. We have an attacking potential and we've progressed in that area. The other good news is that we defended well and didn't pick up any cards."