France 1-1 England
England stifle but fail to sparkle
Richard Jolly believes England must take more of an attacking gamble if they are to realise Roy Hodgson's dream of glory
"I've yet to have a dream where we don't win it. In my dreams, we win quite comfortably" - Roy Hodgson, June 2012
The England manager's dreams may be the only place where JP Donleavy and Paul Konchesky mingle but, as his first competitive game showed, he is only a dreamer by night. By day, or Ukrainian evening, he is very much a pragmatist. Winning Euro 2012 is more of a flight of fancy than a probable conclusion to a summer in Eastern Europe, but Hodgson's first aim is not to lose it.
So the first mission was accomplished against France. Emerging undefeated was the objective and it was achieved in a 1-1 draw with the group favourites. Both sides are protecting unbeaten runs under managers charged with overseeing a renaissance, but the fact that France's spans 22 games and England's is just three shows Hodgson is having to play catchup. Roy's realists may not harbour an inferiority complex, but there are few of the delusions that have hindered past England teams. There was an acceptance that a point represented a decent return.
There was something symbolic in a defender, Joleon Lescott, getting England's goal. Hodgson's focus is on building from the back, yet he is still having to lay down the foundations.Yet, less than six weeks into his reign, there is little of the penthouse about them. England are still on the ground floor but, as in architecture, it is all about shape.
Despite the constraints of time and the complications injuries have caused, England were well constructed as a defensive unit. The accent is on organisation but a centre-back partnership of Lescott and John Terry, whose only previous starts together were against Andorra, were shielded rigorously. If Hodgson is prone to using a double negative in his sentences - see the quote at the top - he has dual defensive midfielders in his side, charged with nullifying. Steven Gerrard has rarely been as disciplined in his positioning, while the one-man blocking station Scott Parker has a well-worn routine in exhausted defiance.
To his right, James Milner seems the personification of Hodgson's England: resolutely unglamorous but the most willing of workers and a man who, crucially for the manager, is rarely caught out of position. He is the safe choice. Indeed, Hodgson seems an unlikely gambler: the sort of man who would deem a £1 bet on the Grand National excessive. He took a calculated risk in parachuting Alex Oxlade-Chamberlain in for his first international start but it was justified by the teenager's mature performance.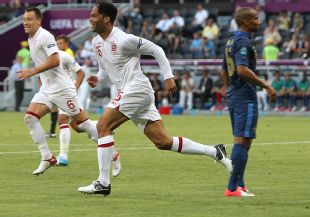 But if plaudits can be directed towards plenty of individuals - Glen Johnson, for a fine piece of covering; Ashley Cole, for offering an outlet on the left; Danny Welbeck, for his movement in attack - they are often for excelling off the ball. Too few flourished on it. This is a limited team with limited ambition, whatever Hodgson imagines in his sleep, and thus accurate representatives of austerity-era England.
Indeed, they harked back to the country's past. This is going back to basics, to 4-4-2, to focusing on set-pieces and aiming to keep clean sheets, to relying on the famed English spirit. Hodgson's side displayed defiance in abundance: their unofficial motto appeared to be 'thou shall not pass'.
But that has a secondary meaning in football. England only had the ball for 35% of the game. While previous national sides have failed to retain it, the current collective don't place an emphasis on it. Positioning is prioritised, not possession.
In the process, shortcomings were obvious. England had a solitary effort on target - Lescott's goal - and their quietest starter, one fine pass to Milner apart, was Ashley Young. Without the service, he had little opportunity to impress. Moreover, by playing 4-4-2, England had the worst of both worlds: they did not have an extra man in midfield to keep the ball, but nor did they spring too many counter-attacks when they reclaimed it.
It was evident, and understandable, that the initial aim was to configure the back four but when even the wide midfielders are chosen for their defensive qualities - and Milner is rather less dynamic than Theo Walcott - it can leave a side looking bland. Well as Welbeck did, the suspicion the French centre-backs might be found wanting was never fully explored.
Somewhere, whether against Sweden or Ukraine, England will have to win a game, or to chase one after conceding first. The current formula may suffice, but the likelihood is that more inspiration and imagination will be required. In his footballing ethos, Hodgson is no dreamer but England could benefit from a little more fantasy.