England news
Gerrard fired by up criticism
England captain bristles at question by journalist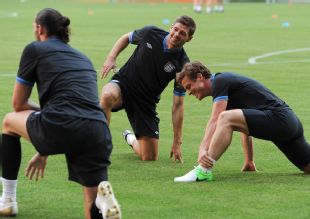 Steven Gerrard is convinced England are on the brink of ending their major tournament drought.
England have not tasted victory in a major competition since the World Cup of 1966, something the Three Lions skipper was reminded of at his press conference ahead of their Euro 2012 opener with France.
The questions from the French journalist appeared to spark Gerrard's attention, as he said: "That sort of thing is all the motivation we need."
Aside from the 1990 World Cup and Euro 1996, England have disappointed on the major stage. Gerrard wants to set that right and feels a slice of luck is all that is needed to set the team on their way to glory.
"We know we have our critics and we know we have under-performed for far too long," he said. "But we also know we are better than our results at the last few major tournaments suggest.
"I have belief in myself and the players. I know how they can perform when they get it right, I see it week-in, week-out in the Premier League.
"I think one tournament very soon it will click and we will get that bit of luck that you always need. Then we will prove an awful lot of people wrong - especially that bloke at the back today."