Germany news
We'll improve, says Low
Germany coach says winning against Portugal was most important thing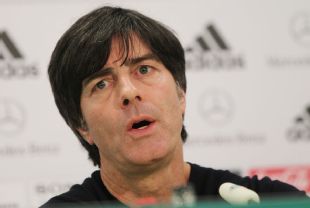 The Germany coach Joachim Low says his team's attacking will improve after watching them labour to a 1-0 win against Portugal on Saturday.
Mario Gomez headed the only goal of the game with 18 minutes remaining after Germany had struggled to carve out clear chances against well-organised opponents.
The Bayern Munich forward struck just as Low was preparing to replace him with Miroslav Klose, and the coach praised his contribution, saying: "Gomez has lots of different qualities - one chance, one goal."
Low said it was crucial that Germany had claimed the victory, explaining: "It's very important not to chase your own shadow. You have to win the first game.
"Both teams knew the team that lost would have a lot to do in the next game - kind of like a knock-out situation. The important thing was to win.
"The European Championship is like a Formula One race, but without a warm-up. You have to be ready straight away because every team is incredibly strong."
Low admitted: "We could have attacked a bit better, but we will do that. The main thing is that we won and we've got these three points."
Germany defender Mats Hummels, meanwhile, was looking ahead to the crucial game against Netherlands, who missed a succession of chances in their surprise 1-0 defeat to Denmark.
That result means Germany could all but knock their neighbours out – and book their own place in the quarter-finals – with a win in Kharkiv.
"Anything but a win could mean they are out so it is one of those classic finals for them,'' Hummels said. "It will be a really intensive game, not just because of the group situation but also because of our history and healthy rivalry."
The Borussia Dortmund player admitted Germany had ridden their luck as Portugal launched a late push for an equaliser, saying: "We lost the ball too quickly too often and did not hold possession long or efficiently enough.
"We were lucky and we know that. We have got to pay more attention in future, but you have also got to consider the quality of our opponents."