Germany news
Podolski wants Germany flair
Striker demands sparkle against Netherlands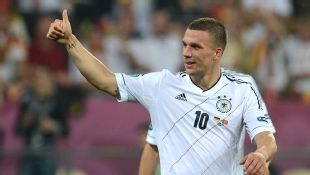 Lukas Podolski has urged Germany to live up to expectations by turning on the style in their next Euro 2012 game against Netherlands.
Germany opened their European Championship campaign with an unconvincing 1-0 win over Portugal as Mario Gomez scored a header late in the second half.
The Germans, who boast a number of exciting youngsters, had been tipped to impress at Poland and Ukraine, and Podolski is hopeful they can use their scalp of Portugal as a springboard for a more expressive display on Wednesday at Metalist Stadium.
"The three points are important," said the new Arsenal signing. "Maybe we did not play as well as in 2010, but we fought hard and in the end it was important to start off with a victory.
"If you look at the Portuguese [team] you cannot say that they're bad opponents. We have room to improve but the victory was very important, especially after Netherlands surprisingly lost against Denmark.
"Portugal had two good attacks at the end. We had little space, even after the [goal that made it] 1-0. We did not play as well offensively as in 2010. We need to improve that.
"Everybody expects 'fun football' and attacking football from us. We have to match those expectations."
He added to Goal.com: "It won't be easier against Netherlands. They have their backs against the wall. If they lose, they are out. We can qualify for the quarter-finals.
"The 3-0 win back in November is still a topic in their team, maybe. It's the same team that will be on the pitch for them. We don't have to hide."