Croatia news
Bilic keeps cards close to chest
Croatia coach giving nothing away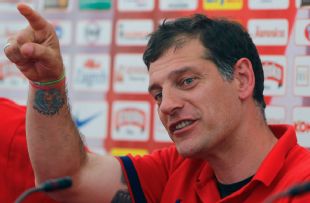 Slaven Bilic will not be repeating Giovanni Trapattoni's trick of naming his team well ahead of Croatia's Group C clash with the Republic of Ireland.
Trapattoni named his own team as that which faced Hungary in their last pre-tournament friendly on Monday, and has made no secret of his chosen first XI to kick off Ireland's campaign in Poznan.
But Bilic, who has promised an attacking approach in a game that looks Croatia's easiest in a group which also contains Spain and Italy, was more guarded.
"I don't want to say my team," Bilic said. "Many journalists from Ireland have already asked me. It doesn't mean much to me. It's just a small psychological game. So, I know already my squad but I don't want to say it now.
"Trapattoni, he has known his starting line-up for two weeks," he continued. "They have more options, I know him very well," he said of Ireland's 73-year-old coach, who he later labelled "Mr Calcio".
However, Bilic did confirm that Vedran Corluka will start, having recovered from a hamstring problem.
"Corluka is healthy, is fit, he will do this training session and he will play tomorrow," he said. "I am very happy with him. He is working very well."
Croatia already lost strikers Ivica Olic and Vedad Ibisevic ahead of the tournament but Bilic is happy with his options and also said he was unconcerned about Ireland's fans dominating the Municipal Stadium in Poznan.
"Since the draw, everybody is saying the Irish team will play with their tradition of a huge support and our supporters will not be in big numbers," he revealed. "But they are loud enough. I'm sure they will be loud in the stadium, and give us positive energy. We are expectng about 7,000 supporters. It is going to be very loud. Believe me."
Croatia play Ireland in the later game on Sunday, and will be able to take Group C's earlier game between Spain and Italy into account when they kick off in Poznan.
"I think we can surprise them," added Bilic. "They know everything about them. We know everything about us. But maybe we have some surprise that I cant repeat to you. We have to play a huge match. If we play as well as we can tomorrow we will win."