Czech Republic news
We must beat Greece, says Cech
Goalkeeper admits opening game did not go as planned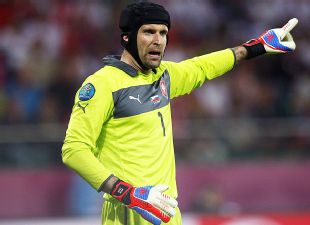 The Czech Republic must beat Greece to have any realistic chance of reaching the Euro 2012 quarter finals, goalkeeper Petr Cech has said.
Michal Bilek's side made a positive start against Russia in their opening match in Wroclaw but found themselves 2-0 down by half-time as their opponents' counter-attacking cut through a shaky defence.
Cech, 30, said Tuesday's clash with Greece would be decisive and admitted: "The game against Russia did not go as planned.
"But at the same time, during the 2006 World Cup we started with a 3-0 victory against the United States and did not qualify from the group.
"The next step is to win the next game. The first game sometimes gives an indication of the group, but the second game will be decisive. If we fail, our chances of reaching the quarter-finals will be small."
The Czech captain, Tomas Rosicky, said the team would draw on crucial wins in their qualifying matches for inspiration, adding: "It was a huge loss for us but this is no time to panic. Defensively we were poor and we didn't react to the counter-attack."
Bilek called on his players to show strength and team spirit, saying they had to look forward and could take encouragement from the way they had started against the Russians.
"We had plenty of possession, but there were some attacking situations we did not finish off," he said. "Then we lost the ball in our opponents' half, they broke quickly and it was a mistake that cost us. We had problems with the combinations in Russia's midfield and that is how they had so many chances.
"We are very disappointed but now we have to show our strength and our team spirit. We are still able to win, so we are going to look forward now."