Euro 2012 news
Pique: No problems with Ramos
Spain defender says he has a "good vibe" with centre-back partner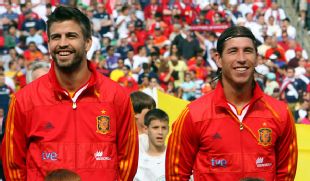 Gerard Pique has rejected reports of a rift between himself and Spain team-mate Sergio Ramos, insisting that all members of Vicente Del Bosque's squad are "united behind the same objective" ahead of Euro 2012.
With a number of players from La Liga rivals Barcelona and Real Madrid involved in the Spain set-up, there have regularly been claims of tension in the camp - with Pique and Ramos previously suggested to be at loggerheads.
Del Bosque recently said that the pair had "their differences", but Ramos has denied he has a problem with Pique and the Barcelona defender has now reciprocated his Real Madrid counterpart's sentiment.
"I get on very well with Sergio Ramos, just like any other player," Pique told a press conference. "I have a very good vibe with Ramos. During the season they said I didn't get on with Guardiola as well. It's the same thing with Ramos. The team is united behind the same objective."
With Carles Puyol missing Euro 2012 through injury, Ramos and Pique will line up together in the heart of Spain's defence, with the latter convinced that the absence of his Barca team-mate will not be felt.
"He's like a brother to me," Pique said of Puyol. "We're obviously missing him due to his injury, but I think we have enough quality and the right players not to notice his absence.
"Keeping a clean sheet is vital in this type of tournament. I hope we keep working well at the back and can pull some strings up front."
Spain open their European Championship campaign against Italy on Sunday and while Pique is happy his side are considered favourites for both the opening match and the whole tournament, he is not underestimating the abilities of the Azzurri.
"I prefer to enter as the favourite," Pique said. "Lots of people are naming us as such and we're under a lot of pressure. Italy is going to be really tough opponent and I'm sure they will be in it to the end. [Mario] Balotelli is a player who can win a game for you and [Andrea] Pirlo is a player who can give you a championship.
"I don't think that what's happening in Italy at the moment [the country's match-fixing scandal] is to our advantage. Just when you think they're not going to have a good run is when Italy shines. We're facing one of the best sides in Europe. I'm convinced there will be a team which makes a stand against us. Everyone sees us as the rival to beat."