Poland 1-1 Greece
Hosts crumble under Greek attack
John Brewin watched as Poland wilted in their first Euro 2012 game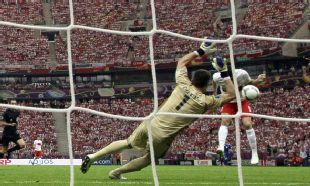 A mistranslation during Poland's pre-match press conference had them labelled as the 'black horse' for Euro 2012. The continent, indeed the world, knows much more about them now. After a second half where it soon became clear they can run out of ideas, few would now tip them for a run into the furthest reaches of the tournament.
Swept along by their National Stadium's fervour, they first signalled that they had the talent to prove worthy hosts, but then fell victim to the type of catastrophe that too often befalls them in major championships. A quarter-final place already looks at risk and two old rivals - Russia and the Czech Republic - await in their remaining Group A matches. Belief would appear to be a quality too easily damaged. A nation's pre-match anxiety had been brought to bear, while the Greeks embodied the confrontation to perceived injustice their nation has become notorious for in recent years.
"Some of the players were paralysed by the pressure, by the stress," admitted Poland coach Franciszek Smuda. Having taken control of an occasion they have agonised over for five years, an advantage was surrendered, as was superiority, and all was almost lost.
It was Greece who could speak of ill fortune and injustice. They were the team wronged by the referee and it was they who blew the golden chance to win the game. When all was going well, Poland played with verve and freedom. Once events conspired against them, they began to freeze in the heat.
Their opponents were quite the opposite. Greece, fuelled by the injustice of a ridiculously fastidious sending off for Sokratis Papastathopoulos, came at the hosts, and panic set in. Wojciech Szczesny embodied the fragility. Greece's goal arrived via his impetuousness, and his sending off and concession of a penalty levelled out the numbers and almost cost Poland the game.
The Arsenal goalkeeper staged a re-run of his Carling Cup final 2011 mishap with Marcin Wasilewski in the Laurent Koscielny role. His bringing down of Dimitrios Salpigidis gave Giorgos Karagounis the chance for Greece to restage the type of against-the-odds party pooping they displayed at Euro 2004's opening match. But at least Poland and Szczesny can hail a new national hero in Przemyslaw Tyton, whose save of Karagounis' kick revived the fans' chants of "Polska, Polksa".
As a moment, it did not quite match the host's goal. The stadium's roof was almost blown off once Robert Lewandowski had finally converted one of a host of chances. It would have been no bad thing considering the sweltering heat in the stadium that possibly played a part in curbing the Poles' adventure.
Having been linked overnight with Manchester United in what now appears to be some kind of ironic joke by Franciczek Smuda, here was the chance for Lewandowski to show why such a transfer seemed so plausible. But having supplied the goal his country so wanted, his supply line soon faltered. Lukasz Piszcek and Jakub Blaszcykowski made hay in the opening half hour and Lewandowski could and should have had more than one goal to his name by then.
"I can't be satisfied," he admitted. "We wanted more. We had dominated them."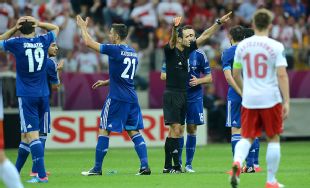 When mentioning the Greeks, it is difficult to start anywhere other than 2004. They began that tournament by ruining the host's opening night, only to return to destroy the same opponent's dreams in the final. This evidence suggests that a repeat is highly unlikely, even if the Greeks had at first seemingly wished to employ the same old gameplan. Playing defensive has been a useful tactic in the European club scene this year, but to do so, you must actually be able to defend. They initially looked hopeless.
Here, Fernando Santos must be given credit. A tactical switch, and the substitution of Salpigidis for the hugely disappointing Sotiris Ninis brought Greece back. Santos clearly has more to his repertoire than an Otto Rehhagel routine even if he is just as gruff as his predecessor. The Greeks can attack after all. We have waited some years to come to that realisation.
Despite that missed penalty, the Greeks should feel the happier. The streets of Warsaw had not quite been able to stage the party that had been longed for. It is now clear that Poland are a team that can be got at. That it could have been worse will still serve as cold comfort.
MAN OF THE MATCH - Ludovic Obraniak.
Lewandowski received the official award from Peter Schmeichel, who could not help but mention Manchester United while handing over the award but it was Obraniak's energy that made Poland play well when they were at their best. Tenacious in midfield and passing with real quality to the Dortmund contingent on the right, when he slowed, so did Poland.
POLAND VERDICT: Their reliance on Lewandowski, Piszczek and Blaszcykowski hurt them. Once that route was closed off by the canniness of Santos, they faltered, and that put pressure on what is clearly a defence with problems. Szczesny again showed that he can be fallible on the big occasion too. Still, they have Tyton.
GREEK VERDICT: The first half hour was comedic rather than tragic. It looked as if they were overawed by the occasion. Yet a sense of injustice fired them, as did the clever tactics of their coach. Salpingidis was their game-changer, and almost their match-winner. After the horrors of 2008 and 2010, this was an occasion to yield satisfaction, if disappointment at a missed opportunity.
Follow @johnbrewinESPN