France news
M'Vila unlikely to face England
France won't risk aggravating injury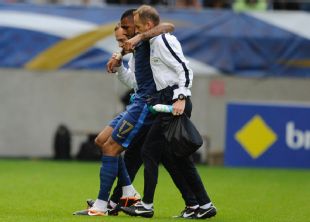 France physio Fabrice Bryand has given the clearest indication yet that Yann M'Vila will not face England on Monday, telling a newspaper that they are "not optimistic" over his fitness.
Although the Rennes midfielder has made a fine recovery since injuring his ankle in a pre-tournament fixture with Serbia on May 31, Les Bleus are unlikely to risk further damage by rushing M'Vila back ahead of schedule.
"His progress is good but we do not want to aggravate the injury. We are not optimistic for the 11th," Bryand told L'Equipe.
"We will increase his workload and see if his ankle swells again or if he suffers any ill effects. We will pay close attention to the player's recovery.''
There was, though, better news when it came to fellow defensive midfielders Alou Diarra and Blaise Matuidi, both of whom gave France fitness scares this week.
"He [Diarra] suffered a slight inflammation of the tendon behind the right knee, but it is going well. Yesterday, we did not take any risks because we were training on a synthetic pitch, but he was initially going to train," Bryand added.
Regarding Paris St Germain's Matuidi, he said: "His progress is very satisfactory. He has started a special programme and we will accelerate that and bring him back gradually. Everything depends on how he reacts."