Focus on Denmark
Denmark: Twenty years on
The surprise winners of 1992 are the European Championship underdogs again two decades later, writes Michael Huguenin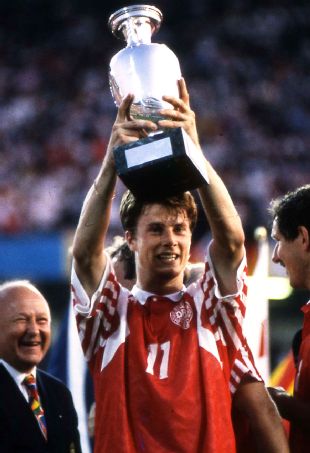 It is not often that a top-ten team is considered a near certainty to be eliminated at the group stage of a major football tournament.
But in the lead-up to Euro 2012, practically everyone in the global football community believes Denmark don't stand a chance in Group B. Even the Danish fans are anticipating a lean time in Poland and Ukraine.
Denmark will play the Netherlands, Portugal and Germany in their three group matches. All three were in the top-five of FIFA's rankings last month, though Portugal dropped down to tenth when the latest list was released earlier this week - with Morten Olsen's side climbing above them into ninth.
In their two warm-up matches, Denmark were soundly beaten 3-1 by Brazil, playing terribly in the first half in particular, before producing a lacklustre performance to defeat Australia 2-0.
Danish fans seem to regard pragmatism as a badge of honour. In a country where the cultural concept Janteløven (a social belief that no individual should consider themselves better than anyone else) is deeply entrenched, the idea of talking up their national team's chances prior to the World Cup or European Championship is not popular. But the Danes have taken that pragmatism to the next level this year and seem almost disinterested in Euro 2012. Expectations have probably not been this low for 20 years.
Denmark did not know they would play at the 1992 European Championship in Sweden until just a few weeks before when replacing Yugoslavia due to the country's civil war. But despite a rushed preparation, Richard Moller-Nielsen's team managed to pull off arguably the most surprising victory in the competition's history.
John 'Faxe' Jensen, a former Arsenal midfielder and scorer of the first goal in Denmark's 2-0 win over Germany in the 1992 final, believes that this year's Danish squad should take inspiration from his team, saying: "Morten Olsen should tell them 'if those old blokes from 20 years ago can do it without preparation then anything can happen in football'."
Denmark's captain in 1992, Lars Olsen, points to two things that are vital for underdog teams to be crowned champions, explaining: "It requires that you are completely geared up for every single game and, of course, something that we had when we won 20 years ago, we also had some luck and that's not something you can just order," Olsen explained.
The European Championship has a strong history of shock winners. Most football fans will easily remember Greece's triumph in 2004 and Denmark in 1992. But in 1976, a Czechoslovakia team that had failed to qualify for the 1974 World Cup and 1972 Euros also pulled off a surprise victory. On their way to the title, Czechoslovakia defeated both World Cup finalists from 1974, knocking out Netherlands in the semi-finals and then overcoming the reigning world champions West Germany after a penalty shootout in the final.
But while nobody expected Greece and Czechoslovakia's successes ahead of the 2004 and 1976 tournaments, it was literally impossible for anyone to predict Denmark's triumph a month before the 1992 finals as they had not even qualified. With only a few weeks remaining before the tournament was set to begin in Sweden, Yugoslavia were banned in response to the internal conflict that was ripping the former communist country apart. Denmark, the team that had finished second behind Yugoslavia in qualifying, were chosen to play in their place.
Olsen, who had just finished a stint with Turkish club Trabzonspor, was driving back to Denmark when he heard the news. "I was waiting for the ferry (in Germany) where for the first time I could hear Danish radio and then I heard it on the news."
Moller Nielsen frantically pulled the team together and they travelled to Sweden. Despite their limited preparation, Denmark qualified for the semi-finals by finishing second in their group behind the host nation and ahead of England and France.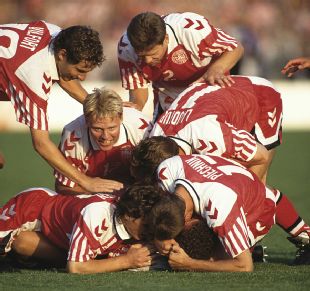 Prior to his team's crucial 2-1 win against the French in the final group game, Moller Nielsen allowed the players to play mini golf after training in order to unwind and followed this up with a trip to Burger King before the semi-final. Jensen believes these unconventional methods played a key role in Denmark's success, saying: "We had really good comradeship and that was probably the main reason that we won that European Championship."
Reigning European champions Netherlands awaited in the semi-finals and despite twice surrendering a lead, the Danes triumphed in a penalty shootout. Olsen recalls: "It was a really good football game, the best I've ever been involved with in my playing career. There were goals and excitement and... at that time, I reckon Netherlands were the best team in Europe."

Denmark's final hurdle was world champions Germany. The Germans dominated the opening quarter of an hour of the final in Gothenburg and Danish goalkeeper Peter Schmeichel made a number of top-class saves. But then Jensen struck what he considers "the most important goal that has ever been scored in Danish football." His thumping 19th-minute strike from the corner of the penalty area was one of just four goals he scored in 69 games for Denmark. "Suddenly it was like our players had extra vitamins, extra power," Jensen said.
Kim Vilfort added a second goal with 12 minutes to go and Denmark held on for their one and only major tournament victory.
Denmark's success in 1992 was a classic example of how a champion team can beat sides consisting of individual stars. Denmark had no world-class players in Sweden with Schmeichel yet to make his name with Manchester United. Michael Laudrup, Denmark's best ever player, who was playing with Barcelona at the time, was in self-imposed exile from international football because he believed Denmark were too defensive under Moller Nielsen.
Aside from the precocious Christian Eriksen, Denmark's current crop similarly lack star power and will have to rely on their collective strength rather than individual quality if they are to progress to the latter stages of Euro 2012.
"It's the team that is important," Lars Olsen said. "It could well be that (Nicklas) Bendtner and (Daniel) Agger are the best known but there are many other good players. Also players that play in Denmark, (Dennis) Rommedahl and (Michael) Krohn-Dehli are important for the team."
For Jensen, Denmark's chances at Euro 2012 will come down to one thing - their will to win: "Regardless of whether they play Germany, Spain, Netherlands, Portugal or whoever they might meet, that winning mentality must be top notch."