Group A
Poland opens Euro 2012 vs. Greece
The start of Euro 2012 is finally here, with co-host Poland taking on Greece in the tournament curtain-raiser. On paper, it's a game that the Poles should win, but Greece's history is that of the ultimate party crasher, so the home side will need to be wary.
What's on the line?
With Russia the clear favorite to top Group A, Poland and Greece will be placing a high priority on achieving results versus other opponents. This is especially true for Poland, which will be eager to generate some positive momentum and get the home fans behind the side. Greece is by no means a pushover, however, and will be keen to duplicate the form that saw it prevail at Euro 2004.
Style and tactics:
Fans of the game's aesthetics would be best advised to avert their eyes. Greece has long been a purveyor of negative tactics, winning matches through defense and set pieces. This has changed a bit under new coach Fernando Santos, but while Greece operates in what is ostensibly a 4-4-3, it excels at getting eight men behind the ball and leaving the likes of Giorgos Samaras, Fanis Gekas and Dimitris Salpingidis to hunt for opportunities on their own. It's a style that demands near-perfection, with a wafer-thin margin for error. Put another way: Greece scored 14 goals in 10 qualifying matches, the least of any group winner.
Poland is more adventurous, lining up in a 4-2-3-1, but finds goals equally hard to come by. The problem isn't so much a lack of attacking quality, as the Borussia Dortmund duo of Jakub Blaszczykowski and Robert Lewandowski both enter the tournament in fine form. Rather, it's the ability of holding midfielders Rafal Murawski and Eugen Polanski, as well as playmaker Ludovic Obraniak, to link defense to attack. The team's strength is on the right side, where Blaszczykowski and right back Lukasz Piszczek will reprise the roles they play at Dortmund.
Players to watch: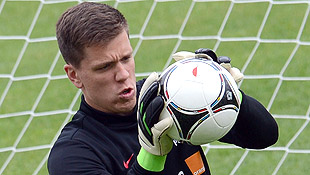 For Poland: Wojciech Szczesny, Robert Lewandowski, Ludovic Obraniak
Szczesny is coming off a sparkling season in goal with Arsenal, and he'll need to command his box well in the face of Greece's set-piece prowess. Lewandowski tallied 22 times in leading Dortmund to its second-straight Bundesliga crown, and he'll be counted on to score. Obraniak looks to be the playmaker of choice at present, edging out Adrian Mierzejewski. His ability to set up the likes of Lewandowski and Blaszczykowski will be critical to breaking down a stingy Greece defense.
For Greece: Kyriakos Papadopoulos, Giorgos Karagounis, Fanis Gekas
Papadopoulos is not only a standout defender, but his skill on the ball gives Greece the ability to play the ball out of the back. Karagounis is one of two holdovers from the team that won it all at Euro 2004 and provides a dash of creativity to what is otherwise a utilitarian midfield. His delivery from set pieces is also a major weapon for Greece. Gekas, meanwhile, has a solid strike rate of 21 goals in 58 internationals and will be among those counted on to get on the end of Karagounis' pinpoint service.
What we can expect?
Opening matches tend to be cagey affairs, and this one should be no different. Greece will likely try to keep the game devoid of rhythm and try to sneak a goal late. Poland has a defense that is solid in its own right, however, recording five consecutive clean sheets. It all points to a match that will be heavy on tactics and short on flair.
Intangibles:
Home-field advantage looms large for the Poles, but it can cut both ways. While the home crowd can be a galvanizing force, the expectations can weigh heavy if things start to go awry. Greece will not be daunted by the assignment, having twice dispatched host Portugal on its way to the Euro 2004 crown, including a 2-1 win in that year's tournament opener.
Who'll win?
Given the tactical inclinations of the two teams, plus the relative strength of their defenses, everything is pointing to a 0-0 tie. But Poland has been gearing up toward this moment ever since failing to qualify for the 2010 World Cup, and with its fans cheering the team on, look for Lewandowski to bag a goal and secure a 1-0 win for the host.
Jeff Carlisle covers MLS and the U.S. national team for ESPN.com. He is also the author of "Soccer's Most Wanted II: The Top 10 Book of More Glorious Goals, Superb Saves and Fantastic Free-Kicks." He can be reached at eljefe1@yahoo.com.