England news
Defoe returns to England
Striker heads home following death of father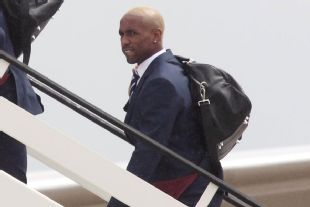 The Football Association has announced that Jermain Defoe has returned to England following the death of his father.
Defoe, 29, has flown back to his home nation from Poland, but no replacement will be called upon by England manager Roy Hodgson.
"I want to thank the fans, my family and friends, the England boys, the FA and the manager for their support," Defoe on Twitter. "I can't tell you how much it means to me.
"I love you all may God bless you. A special thank you to Royal Marsden's doctors & nurses who looked after my dad v.special people."
The FA confirmed in a statement the striker will link back up with his team-mates in "due course", with the Three Lions kicking off their Euro 2012 campaign on Monday against France.
The statement read: "England striker Jermain Defoe has returned home to England this morning following the passing of his father overnight.
"Jermain will re-join the England Euro squad in due course. There will be no replacement player called in. We would ask all media to respect Jermain and his family's privacy at this difficult time."
Tottenham have also offered their sympathies to Defoe. The Premier League side said in a statement: "Everyone at the club sends their sincere condolences to Jermain and his family."