Ireland news
Trap finds positives in Hungary draw
Italian gives keeper Shay Given clean bill of health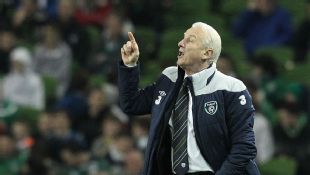 Ireland manager Giovanni Trapattoni has revealed he has looked at the positive elements of the 0-0 draw with Hungary in Budapest on Monday.
Trapattoni, 73, reacted angrily after only goalkeeper Shay Given's saves in the first half preserved a 13-game unbeaten run, hinting that he could change his Euro 2012 tactics. He was concerned that midfielder Balazs Dzsudzsak and lone striker Adam Szalai had made life difficult for the Irish and indicated that he could rethink his 4-4-2 formation, employing Robbie Keane in a withdrawn role behind a central striker.
But after reviewing the game "with more calm", Trapattoni said he had looked at the positives to be taken as he prepared for the opening Group C game against Croatia on Sunday.
"I watched the game with more calm and I made a few considerations, looking at the positives, and there were also some negatives," he said. "On the positive side, the defence was very, very well balanced and solid. They only real danger came from a deflection on 90 minutes and a shot from outside the box on 20 minutes.
"My judgment after the match was a little bit influenced by the fact that we have always dominated in past games, and I had an impression that we made two slight mistakes and gave them one or two opportunities to score.
"Thanks to our goalkeeper Shay [Given]... he saved those goals. But in the second half, I think we also had opportunities to score and maybe deserved to."
The coach said he considered the draw "not bad", but revealed that he would ask his players "why we didn't start the game as we did the games we have played in the past".
And he revealed that goalkeeper Given, taken off at half-time, had not suffered an injury but had been rested. "It is only a rest," he said. "It was decided before he would play one half and in the second half, it would be the other keeper, [Keiren] Westwood. He is fit. There is no injury."
Striker Kevin Doyle said he would not take his place in the team for the opening match for granted until Trapattoni had named his line-up, even though the coach appears likely to stick with the players he selected against Hungary.
Doyle, 28, said he could not wait for the tournament to get under way, saying: "I feel good, I feel sharp - as all of us do. I still want to train well this week. I won't be doing anything different just because he said I may or may not play."
Speaking at Ireland's training base in Gdynia, Poland, he said: "It's been a long time since November, talking forward and back about playing Croatia, Italy and Spain, so I just want it to start."