Player Profile
The Luka Modric mystique
What is it that makes the Croat so coveted?
Luka Modric is an unusual footballer. The Croatian midfielder, who plays his club football in the Premier League for Tottenham Hotspur, is the strangest of players: a star who doesn't seem to shine. For the first few minutes that you watch Modric in action, it's difficult to work out exactly what he does. He gets the ball and gives it to someone else who promptly runs off and does something much more exciting with it. Then he runs -- but not very fast. And look -- now look at him. He's standing still. And he's raising his arms in triumph.
This description is common for Luka Modric almost every time his team scores. You see, he's very rarely the player who tallies. He is also very rarely the player who provides the assist. But if you count one pass further back -- if you look at the person that supplies that provider -- then you'll find him almost every time. This position, the deep-lying playmaker -- or what the Italians call the regista -- is vital in the modern game now that defenses are far more conniving and sophisticated; teams must build attacks from withdrawn positions and use more variety than the old days of "Route One" long balls, making players like Modric an essential component.
On its day, Tottenham's attack -- led by Emmanuel Adebayor up front and Gareth Bale from the flank -- is as fearsome as they come, most notably in the 4-0 league victory over Liverpool last season. And Modric? He's just watching quietly in the background, having drawn up the attack coordinates. What's more is every now and then -- as he did in that Liverpool romp -- he produces a spectacular goal.
If Tottenham Hotspur is a thrilling live band, then Modric -- like, for example, Barcelona's Xavi Hernandez and Manchester United's Paul Scholes -- is its drummer. Arguably the most important skill in soccer is the ability to dictate the rhythm of the match. With this, a team can open up space within the ranks of the opposition. The world first saw this side of Modric when he directed Croatia's 2-0 Euro 2008 qualifier victory over England in Zagreb. He didn't score -- and was barely mentioned in the match reports -- but was the source of all that was lethal to England.
Two years later, millions more were aware of the danger that he posed and watched as little Luka guided his country to a 2-1 win over Germany at that tournament in the group stages. Germany, which made it to the final before succumbing to Spain, was overwhelmed by his swift, precise and perceptive passing. The great Dutch coach Rinus Michels would have called this a perfect example of "circulation football" -- the art of keeping the ball moving fluidly across the pitch as if it were a red blood cell flowing through an artery.
It is this art that will be of great value to Croatia in a difficult Euro 2012 group against Italy, the Republic of Ireland and reigning European champion Spain. With its star drummer on top form, the Azzurri struggling to find its tempo and the Irish lacking in flair, the Croats could reasonably hope to emerge in second place behind the title-holders.
Yet given the indirect nature of his influence, Modric will likely elude simple statistical analysis. There are many footballers (Robin van Persie, Lionel Messi, etc.) whose numbers immediately bear witness to their vast influence; well, the Croat isn't one of them. Were you to assess him merely by Moneyball-style metrics, you'd come away feeling decidedly underwhelmed. For example, in the 2011-12 EPL season, he trailed Manchester City's David Silva by some distance in chances created from open play (by 86 to 67, according to Duncan Alexander of Opta Sports). He scored only three goals and gave only four assists.
This, though, would be an unfairly simplistic appraisal of events. Admirers of Luka Modric would ask you to look at his passing. In 36 league starts this past year, he completed the highest number of passes in the division (2215), ahead of the buccaneering Yaya Touré of Manchester City (2189). What's more, he was caught in possession many more times than the Ivorian. This last statistic is an important (and ambiguous) one. On the one hand, it suggests that Modric is less careful in possession than Touré; on the other, it suggests that he is more readily targeted because he is perceived as the greater threat. I would argue that the latter holds most of the truth.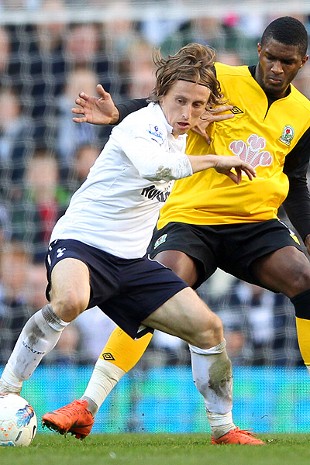 If the worth of Modric cannot conclusively be expressed in mere numbers, it is hinted at by the caliber of those clubs that most covet him. Last summer, Chelsea and Manchester United, seeking someone to marshal their midfields through the tricky later stages of the Champions League, both aggressively pursued Modric's signature. Sir Alex Ferguson identified Modric, and not Gareth Bale, as his player of the 2010-11 season, while then-CFC boss Andre Villas-Boas called him "one of the greatest talents in the world, a player who will have tremendous success." Both were repelled only by the rare resilience of Tottenham's chairman, Daniel Levy, a feat all the more remarkable for the fact that Chelsea was reportedly offering Modric three times what he is currently earning at White Hart Lane.
Perhaps the most eloquent testimony to Modric's talents comes from a man of very few words, but who for many years has practiced a similar brand of witchcraft at the heart of his team. When asked whether Manchester United should look to buy Modric, Samir Nasri (then at Arsenal), or Internazionale's Wesley Sneijder, Paul Scholes was unequivocal. "Of the three, Modric, when we've played against him, has been the one I have been most impressed with," he told the Manchester Evening News in July, 2011. "Whenever we played Tottenham, he was the one who stood out."
The best evidence of this was the 2009 Carling Cup Final. Modric was up against Paul Scholes in midfield that day, and although Tottenham would eventually lose on penalties, the game saw the Croat at his most majestic. Time and again, he would turn away from Scholes, intercepting a pass from him here, twisting past him there, leaving the United veteran in rare discomfort. Scholes is, after all, the man whom Barcelona's Xavi has described as "the best central midfielder I've seen in the last 15, 20 years" and whom Zinedine Zidane has called "undoubtedly the greatest midfielder of his generation." Yet against Modric, he looked totally nonplussed; as confused, in fact, as someone who'd been asked to express just how good Modric was by using nothing but stats.
The future for Modric is thoroughly exciting given that he is one of a select group of footballers who could materially improve the world's best teams; furthermore, Tottenham's failure to qualify for the Champions League may very well prompt him to move on this summer. His next destination is anyone's guess; Chelsea may well rekindle their interest, as may Manchester United. Meanwhile, there is a strong argument that, had Manchester City replaced the often pedestrian passing of Gareth Barry with that of Luka Modric, it would have won the Premier League far sooner than it did. Croatia is fortunate to have him; so, too, will be the club who can afford his rare and understated brilliance.
Musa Okwonga is a football author, blogger, poet and musician of Ugandan descent, who writes, among others, for
The Blizzard
and
The Independent
. In 2008 his first football book,
A Cultured Left Foot
, was nominated for the William Hill Sports Book of the Year Award; his second book,
Will You Manage?
, was published by Serpent's Tail in 2010. He is one half of
The King's Will
, an electronica outfit that blends spoken word, dubstep, and animated videos.