Euro 2012 news
Nani predicts England will struggle
Portugal star expects rough ride for Three Lions at Euro 2012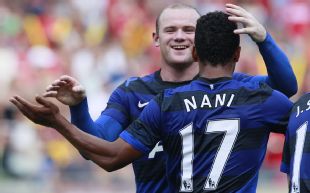 Manchester United winger Nani believes the absence of his club team-mate Wayne Rooney for the first two games of Euro 2012 will significantly hamper England's chance of progressing to the quarter-finals.
Rooney will miss the Three Lions' matches against France and Sweden through suspension, with either Danny Welbeck or Andy Carroll set to step in to his shoes as the spearhead of Roy Hodgson's attack.
But Nani, whose Portugal side could potentially meet England in the semi-finals if both nations progress that far, expects England to struggle without their talisman.
"Rooney is a key man and two matches without my United companion could be too much for England," Nani told The Sun. "Roo is angry about his absence because he knows he's the man to score goals and he won't be there working for the team.
"I sincerely want England to reach the quarter-finals but it's not going to be easy. An England team without Rooney, Rio Ferdinand, Frank Lampard and Gareth Barry is vulnerable because they are suffering in all departments of the team.
"These players are so important for the team and their replacements are not at the same level. These absences place many doubts about the English for the Euros. England need to make their biggest effort because injuries are destroying the team."
The Euro 2012 group stage will be no easy ride for Nani either, with his Portugal side drawn alongside Germany, Netherlands and Denmark in Poland and Ukraine.
But despite the quality of Portugal's opponents, Nani believes his side have a better chance of advancing to the knockout rounds than England.
"England's opening game against France is very dangerous. The two teams both need a victory because the result will put a very decisive stamp on the group. The losers will receive much criticism and that will generate a lot of pressure for the following game.
"People consider Spain, Germany and Holland as the big candidates for the European Championships but Portugal can spring a surprise. If we can gain confidence from one match to the next, we can go a long way."