Focus on Italy
Prandelli seeking recipe for success
Roberto Gotta examines Italy's tumultuous build-up to Euro 2012 and the tactical dilemma facing Cesare Prandelli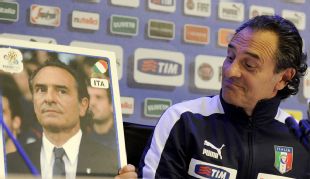 When cooking up one of their favourite dishes, "the Azzurri", the football gods have often experimented with bits of nouvelle cuisine, while making sure traditional tastes are catered for with robust quantities of well-known flavours.
The Italian national side, because of that, has been, at times, whatever one was inclined to feel in his bite: a splash of catenaccio, the all-behind-the-ball tactic made popular decades ago; a trace of ball-control; a base of workmanlike qualities sprinkled with enough talent to win matches (as in 1982); a pinch of attacking football, as found in the 2006 World Cup serving, which has never been praised enough for its daring attitude - a taste of which could be seen in Marcello Lippi's decision to send on three strikers (Alberto Gilardino, Vincenzo Iaquinta and Alessandro Del Piero) in the last 36 minutes of the final against France.
Just a few days before Italy kick off their Euro 2012 campaign against Spain, though, no-one knows for sure what flavour Cesare Prandelli's side will take on. Tactics, of course, have played as much a part in this uncertainty as the match-fixing scandal that has affected the preparation of the Italian squad since early in their training camp in Firenze, forcing Prandelli to drop Domenico Criscito. The Zenit Saint Petersburg defender, whose room was searched by investigators in a pre-dawn raid last week, was a sure starter at left-back. Centre-back Leonardo Bonucci, who has also been mentioned in dispatches but, unlike Criscito, has not received an official notice, stayed on but was said to be upset by the speculation.
After starting off with a side that leant on a centre-forward - Amauri played in Prandelli's first game against Ivory Coast at Upton Park in August 2010 - Gilardino, Marco Borriello and Giampaolo Pazzini were respectively utilised as the focal point of a three-man attacking line. They featured in a 4-3-3 which was discarded once Prandelli, in his own words, noted "Serie A does not produce enough outside forwards for us to keep playing this way".
Enter the 4-3-1-2, which in Prandelli's ideal plans would have Antonio Cassano and Giuseppe Rossi leading the charge up front, opening up space with their off-the-ball movement for the trequartista and the other midfielders to run into. Prandelli chose his midfielders for their versatility as much as their talent and, in fact, went as far as saying "we do not have a real trequartista in Italy", as he did not rate Alberto Aquilani and Riccardo Montolivo as such. Prandelli has also stated that he does not like the word anyway, as it implies a set position on the pitch - which goes against his belief that no midfielder or striker should ever help opposing defenders by being too static.
Italy sailed through their qualifying group with ease, conceding only two goals and adapting on the fly to the variations Prandelli made to the 4-3-1-2. But the loss of Rossi to a serious knee injury and the temporary absence of Cassano while he recovered from a heart ailment that sidelined him in late October, meant Prandelli has experimented with different players. While the midfield was stable enough, with a trio of Daniele De Rossi, Andrea Pirlo and Claudio Marchisio being a clear first choice, Montolivo has twice been chosen as the trequartista, with the attacking duo made up of Mario Balotelli and Pazzini, Balotelli and Osvaldo, and Sebastian Giovinco and Alessandro Matri.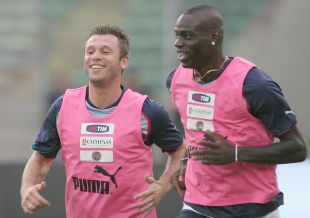 It seems it is back to Cassano and Balotelli now, with Antonio Di Natale ready to contribute when the switch to 4-3-3 is made. However, Prandelli's biggest concern at the moment is in defence. Having lost Criscito, the Azzurri coach saw his back four of Christian Maggio, Andrea Barzagli, Bonucci and Federico Balzaretti struggle against Russia in last Friday's ugly 3-0 friendly loss, and admitted after the game he'd have to change something, which could only mean one thing: Italy were moving, at last, to the three-man defence Prandelli himself had said we'd never see from his side. The formation had been heavily mentioned in the run-up to the tournament as a potential way of fixing something that… err, was not really broken since defensive performances had been excellent throughout qualifying.
Actually, those in the media who believed Italy should follow Juventus' example, based their proposal on the very fact Barzagli, Bonucci and Giorgio Chiellini had been such an efficient unit during the Bianconeri's run to the Serie A title. Proponents of the three-man backline suggested it would have been a waste to have them in the same squad without using them all at the same time and while it's true Chiellini can play at left-back, the 3-5-2 would have helped both Criscito and Maggio, the latter in particular, play in their regular positions. With Criscito gone, the same pattern could be followed with Balzaretti or late entry Emanuele Giaccherini, the Juventus jack-of-all-trades who would obviously offer a completely different skill set, having started his Serie A career with Cesena in 2010-11 on the left or right of a three-pronged attack.
The calf injury Barzagli picked up in training on Monday, though, might force Prandelli to reconsider once more. Having the three established Juve performers as a unit might have made sense as their mutual understanding and stability - not to mention ball-playing ability - could have helped teammates settle into a new formation. But with Barzagli possibly gone and replaced by a player not accustomed to a three-man defence, the coach may have to go back to his original plan, not that he likes to make a fuss about it anyway. "The three-man or four-man defence is a false problem" – he said last week – "and I'd still rather take one more midfielder than defender to the tournament".
As things stand at the moment, in the week leading to the opening game against Spain, Italy look vulnerable and unstable - their confidence shaken by the sudden turn in attitude against the squad by the media and perhaps the public. Up to the day the police broke the early morning bliss of the training centre in Coverciano, benevolence, a sentiment Prandelli always seems keen and skilled to evoke, had reigned supreme, sprinkled perhaps by worries about how Balotelli would cope with the attention of opponents and fans in Poland and Ukraine.
It all changed with the Criscito/Bonucci dichotomy, and worsened when Gigi Buffon was also thrown into the mix before and after a secret police note was leaked about payments for more than a million euros he'd made to a certified betting shop, something which by the way is not related to the match-fixing scandal and has so far not even proved to be illegal.
Comparisons to 2006 and the World Cup win after the Calciopoli scandal had hit the squad were quick to arise on Twitter but are misplaced. Back then, Juventus and Milan, who supplied several players to the squad, were involved, and even Lippi's name had been mentioned in the investigation, all of which helped create a siege mentality that the Azzurri used to their advantage.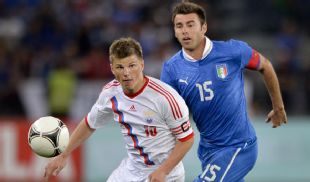 This time, the majority of the players arrested or under investigation belong to minor clubs, and the whiff of scandal would have barely penetrated the walls of Coverciano had it not been for the Criscito affair.
The disappointing defeat to Russia added to the gloomy feelings, although experience should teach that no friendly match should ever be used to evaluate how a side may do in a tournament, and the history of the Azzurri is definitely full of such instances of bad preparation and sudden success.
What is interesting now, though, is watching how Prandelli puts the pieces back together after going back and forth - at least in training - between philosophies in the past three days; how the partnership of Cassano and Balotelli develops; how Montolivo plays as a trequartista; how Andrea Pirlo holds up after a fantastic but tiring season with Juventus - a worry some have about all the Bianconeri in the squad anyway.
And please, keep the football gods occupied.