Italy news
Chiellini: Juve defence key for Italy
Bianconeri defender believes backline will boost Italy at Euros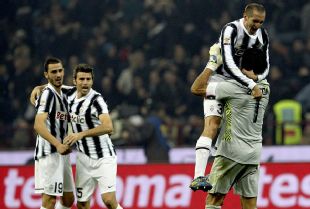 Juventus centre-back Giorgio Chiellini is convinced the strong defensive unit that helped the Bianconeri win the Serie A title this season can play a key role for Italy at the European Championship.
Chiellini, 27, was part of the watertight Juve backline that shipped just 20 goals in 2011-12, and Azzurri coach Cesare Prandelli has three of those defenders at his disposal for Euro 2012 - Chiellini, Leonardo Bonucci, Andrea Barzagli - as well as Old Lady goalkeeper Gianluigi Buffon, who is captain of the national team.
Italy conceded five goals in three games as they finished bottom of their group at the 2010 World Cup and Prandelli is banking on the 2012 crop putting in a better defensive showing this June, with Chiellini - who played all three games in South Africa - determined that he and his club team-mates will oblige.
"Our defence is really solid and well combined as loads of its elements played together in Juventus for a while, that is Buffon, Bonucci, Barzagli and me," Chiellini said. "We have the right concentration, and the awareness as a group that wants to do its best."
Having failed to make the Azzurri squad that triumphed in the 2006 World Cup, Chiellini is dreaming of international glory to complement his domestic success with Juve.
Chiellini said. "For me it [winning Euro 2012] would be second dream turning into reality after just winning the Scudetto with Juventus this year."
Juventus and Italy defender Giorgio Chiellini wears Puma boots - @pumafootball