France preview
France out for place in final four
Paul Marshall looks at Les Bleus' hopes for Euro 2012 as they seek to banish recent disgraces
"To have a rifle trained on you is part of being national team coach," said Raymond Domenech recently, before adding that he would be "back on the market in September". So while the man Laurent Blanc succeeded as France coach prepares to get back behind his fruit 'n' veg stall, it is the former World Cup-winning centre-back who is in the firing line at Euro 2012.

Blanc's messianic status as one of the legendary 1998/2000 sides means it is likely to take a lot longer before the French media begin sniping than they did with Domenech. Blanc can to a large extent be grateful to his predecessor for that as - under Domenech - Les Bleus had plumbed new depths following their run to the 2006 World Cup final. Who would have thought the laughable excuse for a tournament campaign that was France's at Euro 2008 could be surpassed?
Three 'matches' in South Africa and 'the bus of shame' in Knysna meant the 2010 World Cup debacle managed that feat, however. And by some distance. That is why, despite France going into the tournament unbeaten in 20 matches under Blanc, there is only quiet expectation of success in Poland and Ukraine, especially given France's far-from-convincing qualifying campaign.
The L'Equipe headline 'You need to look back' after Iceland had cut France apart in the first half in their first pre-tournament friendly was surely a piece of advice Blanc hardly required. While Lille's Mathieu Debuchy - a reported and realistic summer target of Newcastle United - and Adil Rami were far from flawless, their goals in a streaky 3-2 win helped gloss over some of their shortcomings, a mitigating factor not shared by the remainder of the back four - Philippe Mexes and Patrice Evra - who comprise, or perhaps 'comprised', Blanc's first-choice rearguard.
Blanc has tried to recreate his 'Silk and Steel' partnership with Marcel Desailly in allying Mexes with the less subtle Rami, but the AC Milan centre-back's lack of match practice this season was flagrant against Iceland, while Evra was caught out for both goals in a fashion that would have had Sir Alex warming up his favoured domestic appliance.
"When you concede, everybody's involved. We're not going to start taking pot-shots at the defence, the attack or the midfield," said Evra, who would have unwittingly contributed to his team falling 3-1 behind had second-string 'keeper Steve Mandanda not produced a great save just after the break. "After just a single game, you can't know what you need to improve on exactly. The second match will be different, and the third too."
The second match, a 2-0 win over Serbia last Thursday, was different, especially for Evra. He started the game on the bench alongside Rami and Debuchy. While Arsenal's Laurent Koscielny looked a better fit alongside Mexes, who was surprisingly included again, Gael Clichy certainly contributed more to the left side of the back four than his Manchester United counterpart. "If he becomes a wolf among wolves," said Bixente Lizarazu, now a respected pundit, of the City defender, "he can become the number one down the left flank."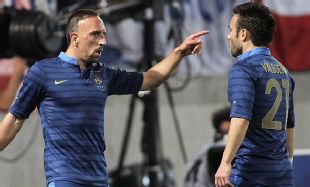 His team's defensive frailties, which were not quite so apparent against Serbia, make Blanc's decision to cut Montpellier's highly-rated though uncapped centre-back Mapou Yanga-Mbiwa from the squad more baffling. It left him with just Koscielny, Mexes and Rami at centre-back, though - as the arch-straw clutchers have pointed out - that is a parallel with the 1998 World Cup-winning squad with Blanc, Desailly and Franck Leboeuf. Aime Jacquet had a playmaker by the name of Zinedine Zidane at his disposal, however.
Blanc, desperately though he tried, will not have his own, watered-down version of ZZ. Yoann Gourcuff's inclusion in the provisional squad left many gob-smacked, but Blanc, mindful of the Breton midfielder's impact at Bordeaux, was convinced a year-and-a-half of mediocre form could be undone in a fortnight. Gourcuff's colourless display against Iceland finally saw the scales fall from Blanc's eyes. Rami pulling rank on a well-placed free-kick against Iceland gave a stark indication of just how low Gourcuff's star has sunk, and he cut a tragic figure as he left the French camp in a Big Brother-style exit last Tuesday. Still dressed in his team tracksuit, it was as if he still hoped Blanc might call him back. Though only 25, Gourcuff's career is at a major crossroads.
Blanc's decision to opt for a cavalier, ultra-attacking midfield against Iceland hardly helped Gourcuff's cause, nor that of Jeremy Menez and Hatem Ben Arfa as they - and Samir Nasri - trod on each other's toes. Blanc switched this significantly - and sensibly - for the Serbia game, leaving out all but Nasri at kick-off, and drafting in Franck Ribery on the left and Florent Malouda through the middle in support of Karim Benzema. He was rewarded with the most convincing 45 minutes for many a month from his side with Malouda in particular excellent - thwacking home France's second after Clichy and Ribery had combined neatly for the first - while Yohan Cabaye alongside Alou Diarra in front of the back four afforded more security than Cabaye alone had done against Iceland.
France would have looked tighter still had Yann M'Vila not turned an ankle early on in Reims, and the Rennes midfielder is likely to miss the opening group game with England. Though it is not as big a loss to France as Rooney's absence is to England, M'Vila's industry and underestimated distribution will be conspicuous by its absence.
The sole positive from the Iceland game was that France turned round a 2-0 half-time deficit to win. "The coach told us that we had to score a goal in the first ten minutes after the break and then score two more to win," was how Benzema summed up Blanc's far-from-Churchillian half-time pep talk, suggesting it was more the French coach's tactical acumen which gave his toothless team dentures if not an overly vicious bite.
It was provided not by Benzema, however, but by Olivier Giroud, the rangy Montpellier striker, who only made his international debut against the USA last November. At the tip of a 4-3-3-cum-4-2-3-1, Giroud - joint-leading scorer in Ligue 1 last season - provided knockdowns for fellow sub Ribery and unlikely matchwinner Rami. Add some catalogue model good looks and a prolific recent goalscoring record and voila, France's very own Andy Carroll.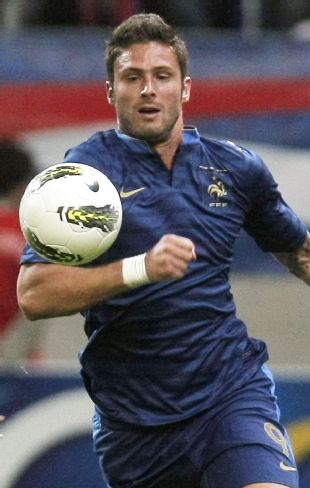 If the Serbia game is anything to go by, however, Benzema remains Blanc's first-choice central striker as he kicked off the game. While Benzema linked play well, Giroud's lack of impact when he came off the bench would merely have confirmed Blanc's choice in his own mind. The question remains whether Giroud and Benzema can work as a pairing - Blanc declined to embark on that particular experiment as he replaced the latter with the former against Serbia having allowed them all of two minutes together against Iceland. As Blanc only has the duo as recognised out-and-out strikers, his options are limited.
Ribery could be the man to help his coach out. Ominously for France's Group D opponents, he looks to be in the sort of form that he usually shows for Bayern, and is oft-criticised for not producing for his country. "When I arrive in France, I've not even had time to turn on the TV and people are criticising me," said the put-upon former Marseille man, who was panned following a listless display against Germany in February. However, a delightful, confidence-filled lobbed goal against Iceland - "It didn't surprise me because that's what I've been doing the whole year for Bayern," he said after his first international strike since April 2009 - and another against Serbia suggest he could revel in the space afforded him by Glen Johnson's wanderlust.
Roy Hodgson will have drawn some comfort from the way France completely faded against Serbia after half-time, though they have built admirable - and winning - momentum. Blanc feels his team are still only at 75% of their means, and will be looking for them to improve on that against Estonia in their final warm-up outing on Tuesday.
"There's no need to rush," said Evra. "You can play well during the build-up, and then lose your first game. It's on June 11 that we have to be ready."
If Domenech is to be believed, they will not even have to be that well prepared. "England have no quality," he said recently. "Fabio Capello is anything but mad. If he had a chance of winning the Euro, he would've stayed ... The match will be easy [for France]. The English defence is catastrophic. After that, we mustn't lose to Ukraine, and that'll be it for the group stage."
For all his shortcomings, Domenech did correctly predict France would reach the 2006 World Cup final. This time, he sees them in "the semi-finals at least". With expectation low and the pressure off, and only Spain head-and-shoulders above the rest in their half of the draw en route to the last four, Domenech may once again be proven right.