England quotes
Hodgson confirms injury worries
Terry and Cahill feeling injuries ahead of Euro 2012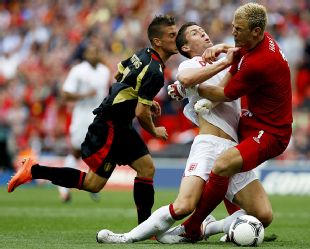 England manager Roy Hodgson has confirmed that his worried about the fitness of defenders Gary Cahill and John Terry, following his side's 1-0 win over Belgium.
Both first-choice centre-backs were withdrawn during the game after picking up worrying injuries, so close to the start of Euro 2012.
Cahill, who left the pitch in the first-half, suffered a jaw injury in a collision with Joe Hart, whilst Terry felt a slight hamstring strain.
Hodgson told ITV1: "Cahill is slightly more of a concern because it's a jaw injury. I am hoping the scan doesn't show a fracture and it will be a bruising situation. That's wouldn't rule him out of the tournament."
He revealed Terry was having a precautionary scan after "feeling a bit of a hamstring''.
The former Liverpool manager continued: "I'm very pleased, it's been a hard week. There was a lot of disruption in the second half, some forced upon us, some we wanted to do. It was a very good Belgium side - arguably stronger than Norway."
Later, at the manager's press conference, Hodgson added: "I wasn't too happy about it (the challenge). Unfortunate is too kind a word. When a striker is chasing a defender who is feeding a ball to the goalkeeper, those nudges and pushes take the defender into the goalkeeper.
"It is something if you have been a goalkeeper you take very unkindly to. The referee gave him a yellow card, which he deserved. Unfortunately for us, the consequences might be a lot more than a yellow card because a fracture is a distinct possibility.''
The Football Assocation has confirmed that they will not be making an announcement on Cahill's injury until Sunday.
It was, though, a happy day for England striker Danny Welbeck, who grabbed his first goal for his country in the first-half at Wembley.
"To get my first England goal in that way, obviously I'm really delighted and it's a massive honour, I'm just really looking to build on that performance and get more games under my belt and more goals.
"It's something I've been waiting for for a long time. I've had a few caps under my belt and one or two starts. So, just to get the goal today, I'm really delighted," Welbeck told reporters, before acknowledging the role of partner Ashley Young.
"It's still the same, me and Ashley playing together. We know each other's games and obviously we're training with each other day in and day out. So, it was really good to start up top with him."
Wayne Rooney, who appeared as a second half substitute, was also positive after the Wembley encounter, believing that England have nothing to fear at the European Championship.
"I'm confident we're capable of beating France and Sweden. We've certainly got the squad of players," Rooney said.
"You need some luck in those games but we're confident - you've got to be confident. If you are not then there's no point turning up.''