Tactical preview
Euro 2012 Tactics - Sweden
ESPN's look at the plans of Sweden this summer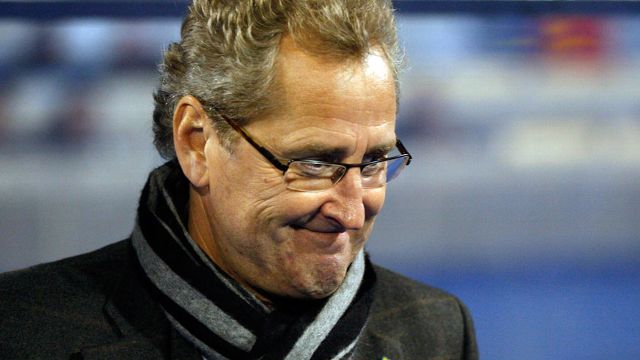 The Coach – Erik Hamren
Success in Danish and Norwegian club football gave this Swede a chance to coach his national team and like Jose Mourinho and Andre Villa-Boas, he is one of the modern breed of coaches who have found their way to the touchline despite an lack of success as a player.
Like many boasting a similar background, Hamren likes to focus on the technical side of the game and he has a reputation for his attention to detail and the diet of his players, while his desire to promote 'positive energy' in his squad is a theme of many of his press briefings.
Hamren made quite an impact during the Euro 2012 qualifiers, as he encouraged his team to express themselves and go for goals, with the end result being a final total of 31 goals in their 10 games. It was a thoroughly impressive tally that was only trumped by Spain on the road to these finals.
In comparison with the stodgy, cautious approach promoted by his successor, the defensive-first Lars Lagerback, forward-thinking Hamren appeared to have changed Sweden's approach for good, but it seems he may be thinking about reining in his ambition now with tournament action looming large.
The Captain – Zlatan Ibrahimovic
Coach Hamren played to the strengths of his leading striker in the Euro 2012 qualifiers, with the attack-minded approach ensuring the one Sweden player opponents will worry about saw plenty of the ball.
That level of involvement meant the striker who has polarised opinions throughout his career was content with his role in the side, but the odds are he will be asked to perform a slightly less glamorous role at Euro 2012 if coach Hamren is true to his word. A more reserved approach could be in the offing this summer.
The AC Milan striker is not at his best when things are not going his way and his critics would argue that he tends to sulk when he does not get the sort of attention he craves. Yet if Sweden get the best out of their enigma, he represents their best chance of success at Euro 2012.
At least the main man in Sweden is back in the fold now after coming out of international retirement after some persuasive words from Hamren. Here's hoping he doesn't throw his toys out of the pram again if things don't go his way again this summer. "A motivated Zlatan is worth his weight in gold for the Swedish national team," says Hamren. "In my opinion, he is one of the best players in the world."
The Formation
Sweden didn't bother looking for the handbrake during the Euro 2012 qualifiers, but all the indicators suggest they will be playing with their foot firmly on the back foot this summer.
"The qualifying performances showed what we can do as an attacking team, but it might not be so easy to play this way against the very best teams in Europe," states Hamren. "We will play with as much attacking intent as possible, but we also need to be sensible."
Hamren's ambition was clearly affected by his side's heavy 4-1 defeat against Holland early in the Euro 2012 qualifying push, as he suggests his side need to show a little more respect to top quality opponents. That means he will look for a stable balance in his team this summer, ensuring his full-backs are not exposed as they were against the Dutch.
His 4-2-3-1 formation should offer that stability and attacking threat in tandem. Their impressive display as they beat Croatia 3-1 away from home earlier this year was an example of the kind of performance they will look for at Euro 2012. He has also experimented with 4-3-3 and 4-4-1-1 formations in recent months.
Ibrahimovic is likely to play just behind lead striker Johan Elmander or youngster John Guidetti, ensuring the skipper gets to see plenty of the ball. Sunderland's Seb Larsson and AK Alkmaar's highly rated Rasmus Elm are also crucial to their attacking game plan.
The Weak Spot
The left-back slot has been a problem position for Sweden, with Oscar Wendt and Behrang Safari both tired and failed options and Martin Olsson now favourite to land the role. However, the Blackburn youngster could be a target for opposition wingers to attack.
The injury to key defender Daniel Majstorovic has been another blow for Hamren. Jonas Olsson is probably going to be the option at the heart of the defence alongside the ever reliable Olof Mellberg, but this is a defensive line yet to prove itself as a unit.
Injury Nightmare
Can't live with him can't live without him. That may be the truth about Ibrahimovic, who will again be the focus of attention as Sweden look to upset the odds in a major championship. If he gets injured, the loss of his presence may be even more significant than his contribution on the field.
Galatasaray striker Elmander is struggling to be fit after injuring his foot in the run-up to Euro 2012, while in-form Sunderland midfielder Seb Larsson is another vital man after his impressive efforts in the qualifying campaign. He has been battling back from a hernia operation in April.
Finally, with more than a few question marks defensively, Sweden dare not consider life without their 34-year-old central defensive rock Mellberg. He is simply irreplaceable.
Young Gun – Martin Olsson
The rumours suggest Olsson will be looking to secure a move this summer after his Blackburn side were relegated from the Premier League, yet his focus for the next few weeks has to be on Euro 2012 and what is set to be his first major tournament in the Swedish first XI.
He cemented a spot in Hamren's plans with four goals in his first six senior internationals and while he may be something of an untested performer against top quality opposition on the international stage, this 24-year-old full-back who has been linked with a move to European champions Chelsea is confident he has what it takes to shine against the best.
"You have something to prove every time you step onto a football pitch, but I feel ready to play in a major international tournament," says the defender whose sister Jessica is the partner of NBA star Dirk Nowitzki.
What they Say
"The leap in quality between most of the teams we played in the qualifiers and the Euro 2012 finals will be big, but I feel we have a good blend in this squad. There is youth and experience and a good mentality instilled by our coach. We can cause some surprises."

Olof Mellberg, Sweden
The Verdict
It will be fascinating to see how Sweden adapt to the Euro 2012 challenge, with coach Hamren promising a less adventurous approach. A favourable group stage draw gives them a chance to progress.