The Big Three
Challenges facing Spain, Netherlands, Germany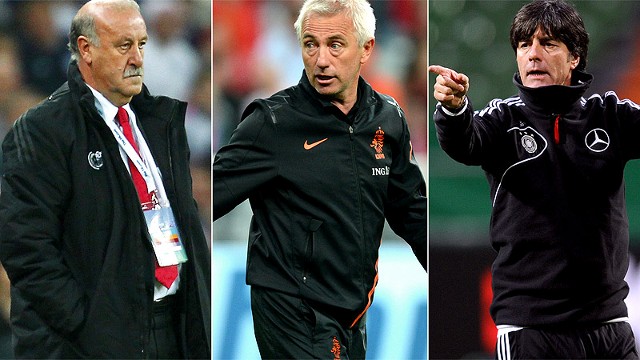 Although South America had a brief moment in the spotlight when all five European sides progressed from the group phase, the 2010 World Cup confirmed Europe's dominance of world football. It wasn't quite the whitewash we saw in 2006, when Italy, France, Germany and Portugal made up an all-European final four. Still, Spain beating Netherlands in the final, with Germany winning the third-place playoff against Uruguay, meant the top three sides in the world were all European.
Look beyond that, however, and the continental dominance wasn't so strong. Spain, Netherlands and Germany were actually the only European nations to make the final eight – along with Uruguay, Brazil, Paraguay, Argentina and Ghana. There was a large gap between the big three and the rest of the UEFA contingent.
That gap remains: The FIFA Rankings list Spain, Netherlands and Germany as the top three, the same three that had the most impressive records in qualifying – Spain and Germany winning 100 percent of their matches, Netherlands nine of 10. It's debatable how many sides are "outsiders" at Euro 2012, and arguable how many are in the 'chasing pack," but the favorites are clearly in a group of three.
For each of the trio, relatively little has changed since South Africa. None of Spain's heroes announced their international retirement after the World Cup final, and for Netherlands and Germany there was no talk of a failed last chance for a generation of talent. Their dominance was particularly striking because it didn't seem like a one-off; it felt more like a statement of intent for the next few years.
A casual observer of football might not have watched any of these sides since the last World Cup, yet won't have missed much. Head coaches Vicente del Bosque, Bert van Marwijk and Jogi Low are all still in their positions, and barring the odd player retiring (Giovanni van Bronckhorst), falling out of contention (Joan Capdevila) or suffering an injury on the eve of the tournament (Carles Puyol), each coach will name a similar core of players for Euro 2012. No change of manager means no radical departure in ideology, while a consistent playing squad means familiar tactics.
What's Spain's plan B?
Yet each side must evolve to prevent becoming predictable. For Spain, despite finding the winning formula two years ago, that is particularly true. The foundation of its success was obviously tiki-taka, but this relentless close-ball control tired and frustrated opponents rather than consistently hurt them. Spain recorded four 1-0 wins in the knockout stage, and on each occasion the goal came after halftime when the opposition was exhausted.
For the breakthrough, Spain always needed something different, something outside the neat, consistent passing offered by the majority of their players. There were three types of alternatives, which all featured at some point in the tournament. The first was Cesc Fabregas' driving runs from midfield, which proved crucial in the final. The second was width, either from Jesus Navas of Sevilla or Barcelona's Pedro Rodriguez, who eventually forced his way into the lineup for the final. The third was a direct aerial option, which Fernando Llorente provided to great effect against Portugal in the second round.
It is that concept of "something different" which del Bosque must not lose sight of. David Silva and Juan Mata deserve a place in the side based upon their Premier League performances in 2011-12. Navas and Pedro offer more drive from the flanks, but neither enjoyed a good 2011-12. Fabregas is no closer to starting, as del Bosque wants to continue with a triumvirate of Sergio Busquets, Xabi Alonso and Xavi Hernandez.
So Spain might have to look up front for its evolution. Llorente has enjoyed a good season with Athletic Bilbao. Spain is unlikely to provide him with many crosses, but his ability to hold up play will encourage more runs beyond the defense – something Spain lack from its midfield.
Netherlands' midfield conundrum
Netherlands need progression from deeper in the side. The physicality it showed in the World Cup final goes hand-in-hand with van Marwijk's desire to play both Nigel de Jong and Mark van Bommel deep in midfield – two ugly, functional players.
"The problem with two holding midfielders is quite simple, but somehow many coaches don't see it," complained Dutch legend Johan Cruyff. "The build-up happens too slow; holding midfielders always need that extra touch, always need to have a look when they have the ball already … plus, having two holding midfielders means there is one less creative playmaker." That is Netherlands' one problem – it isn't good enough at breaking down compact defenses. Its sole playmaker in South Africa was Wesley Sneijder, and for all the praise he received after that tournament, he spent his time scoring goals rather than creating them.
Therefore, there is a need for a more creative player alongside van Bommel in the center of midfield. That could be Rafael van der Vaart, who has been used in a deep position in qualification, but his anarchic style of play means this is unlikely against strong opponents. A more intriguing option is Kevin Strootman, the young PSV midfielder who offers guile and vision from a deep position. Netherlands often play the ball too slowly from back to front, allowing the opposition time to form their defensive barrier. Strootman would play quicker forward passes, and make Holland a more fearsome attacking side.
Germany's style of play is an issue
For Germany, the problem is less about individuals and more about style of play. Its superb football in South Africa was based around counterattacking – it went into early leads against England and Argentina, which then had to get back into the game, leaving spaces at the back. Faced with a Spain side that kept hold of the ball and didn't need to open up, Germany looked impotent.
Therefore, expect Germany to move toward the Spanish style of play – longer periods of possession to calm the game (and rest) then more obvious pressing to win the ball higher up the pitch once it is dispossessed.
That shouldn't necessitate any changes in personnel as the front players are disciplined and hard-working, and Mesut Ozil positions himself well between the ball and the opposition holding midfielder to prevent the opposition from building an attack. Low has a group of superb players in technical terms, but also in terms of intelligence – and they should be able to evolve tactically to finally get revenge over Spain, having lost to them in the previous two tournaments.