Tactical preview
Euro 2012 Tactics - France
ESPN's look at the plans of France this summer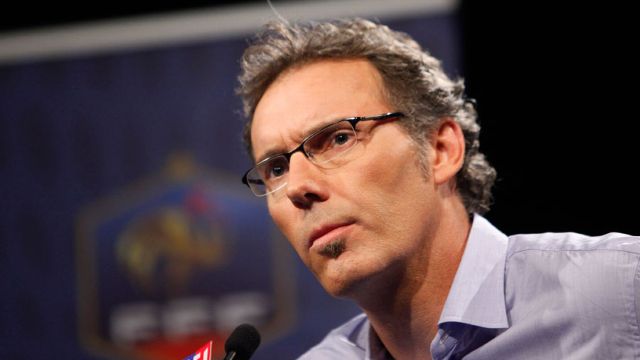 The Coach - Laurent Blanc
The formerly stylish French international libero has done a sterling job of rehabilitating the battered image of 'Les Bleus' following the player strike at the last World Cup and the egotistical mayhem of his predecessor, the unlamented Raymond Domenech. Throughout a brilliant playing career - an odyssey featuring spells at Barcelona, Inter Milan, Marseille and Manchester United among others, 97 full caps and prominent roles in the Gallic triumphs at the 1998 World Cup and Euro 2000 - Blanc was always a tactically switched-on leader of men. So it was no surprise to see him immediately morph into a first-rate coach, guiding Bordeaux to the French League title in only his second season in charge. Authoritative and almost glacial in his temperament, the 46-year-old has an uncanny feel for the evolution of a game and has proved himself a master of the timely substitution. The 2-0 qualifying win at home to Romania in October 2010 was a case in point, Blanc turning a stalemate into an eleventh-hour victory with the late introduction of three energetic new faces (striker Loic Remy, creative midfielder Yoann Gourcuff and winger Dimitri Payet). Blanc went bold and reaped the benefits.
The Captain - Hugo Lloris
Lyon's unflappable keeper was not the first-choice to lead the side, but he heads into Euro 2012 with the leadership role firmly in his hands. Coach Blanc had been strangely uncertain on the subject of the captaincy, nominating no fewer than seven skippers during his time in office: Lloris and fellow goalie Steve Mandanda; midfielders Alou Diara, Florent Malouda and Samir Nasri and defenders Philippe Mexes and Eric Abidal. A few months ago, Blanc was rumoured to have narrowed down the possible candidates to Abidal and Mexes, but when the former was ruled out by a grave liver condition and the latter was caught striking an opponent off the ball while playing for AC Milan, the French boss had to rethink, finally plumping for the safe bet Lloris, who is one of the country's youngest-ever captains at just 25. Slightly introverted and not exactly vocal, Lloris' appointment has had some in the local media scratching their heads, while others believe that his self-assurance, intelligence and 'team first' mentality makes him the ideal choice.
The Formation
Whether using his favoured 4-2-3-1 or the Plan B 4-3-3 shape, Blanc has five basic demands; a solid back-four, technical polish, the domination of possession, keeping the ball on the ground and playing in the opposition half as much as possible. He believes, as do so many others, that games are won and lost in midfield and this is the reason why he refuses to use a 4-4-2, arguing that the extra forward inevitably results in an insufficient number of bodies in the engine room. France's excellent all-round performance in their 2-1 friendly win over England at Wembley in November 2010 is what they hope to revisit this summer; an effective high pressing game, great movement, rapid-fire passing and lots of changes of attacking rhythm. If they pull it off, Les Bleus could be a dark horse to thrive at Euro 2012. Much will depend on how well their trident of tricky attacking midfielders support lone striker Karim Benzema. Another key is the efficiency of the two nominally defensive midfielders, the vision and distribution of Yann M'Vila and dynamism of Newcastle's Yohan Cabaye. In February's friendly win in Germany, France played a highly-intelligent counter-attacking, defending rather deep, staying compact and unleashing lightning-fast break, most of them the work of adventurous new right-back Mathieu Debuchy of Lille. So against England in the opening match of Group D, France would be delighted if England attempt to make the running.
The Weak Spot
France could be caught out by the fact that so-called defensive midfielder Cabaye is more of a box-to-box performer than true ball-winner, thus leaving M'Vila as the only genuine sentinel in front of the back-four. On a good day M'Vila is up to the task, but of late he has looked a little jaded physically for club side Rennes, yet Blanc has plenty of options in midfield if his first picks let him down. The coach has attempted all manner of experiments in personnel and formation in this area and, truth to tell, the situation is still one of flux. Samir Nasri and Blanc are rumoured not to get on; Franck Ribery tends to blow hot and cold for the national team; while Newcastle star Hatem Ben Arfa has little full international experience to call. At the highest level, they may be found wanting in central defence. Adel Rami is inconsistent and Philippe Mexes short on game time for AC Milan. Could it be that left-back Patrice Evra has his best days behind him? Quite probably.
Injury Nightmare
Able to play both as an individualist and as a team man - until Jose Mourinho turned up at Real Madrid it used to be exclusively the former - striker Karim Benzema is absolutely indispensable to the French. Since Blanc took over as coach, Benzema has not only scored goals a plenty but also has made many others and the overriding impression is that he constitutes the be-all and the end-all of France's attacking inspiration. While the France boss Blanc scoffs at the suggestion that France are Benzema-dependant, the idea is not without substance. Would-be replacement, Olivier Giroud and Loic Remy are both talented line-leaders, though they cannot match 'Benz' for his all-round contribution.
Young Gun - Olivier Giroud
On target regularly this season for Montpellier in their title winning season of 2011/12, the 25-year-old striker only made his national team debut late last year, yet he is already an entrenched figure in the squad, cementing his place with a goal in the 2-1 win in Germany in February. Tall, powerful and technically-gifted, he is rated in the €16m bracket and may be worth even more after these championships. While he may be seen as the wild card on the bench, Giroud could be a match winner when it matters most.
What They Say
""I've always had a preference for creative midfielders, the players with imagination and presence of mind, and I'm not sure we've enough of this type today. I'm confident we'll get out of our group though. In attack Blanc has all the quality he needs in Ribery and Benzema, who is 100 per cent talent. Beautiful to watch, as long as you are French.""

Michel Hidalgo, former France manager
The Verdict
France under Laurent Blanc has not always been a pretty sight, but collectively they more than make the grade as they have become tough to beat. They will make the knock-out stages at the very least and from there, everything is possible.