Germany news
Podolski: Only the title will do
Germany striker won't take anything but first place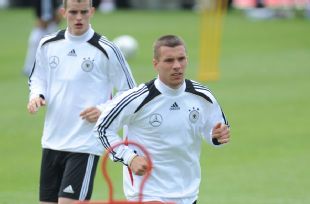 Germany striker Lukas Podolski says that only Euro 2012 glory will satisfy him this summer as he sets his sights on victory in Poland and Ukraine.
Podolski, 26, who will join Arsenal from Cologne next month, was part of the Germany sides which missed out on titles in 2006, 2008 and 2010 and he now will not settle merely for a place in the final.
''Only the title counts, nothing else,'' he said. ''In recent years, we have always said that the semi-finals would be a success, but I think we can say we are ready to challenge for the title ahead of these finals.''
The striker is keen to put a disappointing season behind him with a successful summer with the national team, with whom he has always managed to show his best form.
Despite being relegated with Cologne, Podolski will go into the tournament with optimism, claiming that such an approach gives them more chance of prevailing.
''If you can say in advance that you want to challenge for the title, then it can give you an extra boost in the end,'' he told the Kolner Stadt Anzeiger newspaper at the end of a week-long training camp with the national team in Sardinia.