Poland news
Poland name provisional squad
Franciszek Smuda named a 26-man party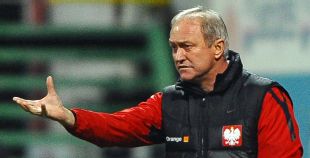 Poland boss Franciszek Smuda has announced an initial 26-man squad for Euro 2012, along with seven reserves, at a gala event in Warsaw on Wednesday.
With a team based on a spine of players from Borussia Dortmund in Lukasz Piszczek, Jakub Blaszczykowski and Robert Lewandowski, Smuda believes his side are fit to handle the pressures of performing in front of expectant home fans this summer.
"For the last two and a half years I've had time to recognise what my players can do and I believe the group chosen will give our fans real joy," Smuda told atendees at the event. "I know we're under pressure and that's the way it should be. It's normal but we can cope, don't worry, and have players such as the Borussia Dortmund ones who play in front of 80,000 fans every week."
Justifying some of his surprise younger picks, Smuda added: "I tried to pick young players not only for EURO but for the future as well. These tournaments always create new names and I believe that two or three or them will be Polish. If we're successful then my players will be heroes, with me in their shadow."
The Legia Warsaw duo of Michal Kucharczyk and Rafal Wolski were two of the inexperienced names that were included in the squad for the summer's showcase.
Provisional squad:
Goalkeepers: Lukasz Fabianski (Arsenal), Wojciech Szczesny (Arsenal), Przemyslaw Tyton (PSV Eindhoven).
Defenders: Sebastian Boenisch (Werder Bremen), Kamil Glik (Torino), Tomasz Jodlowiec (Polonia Warszawa), Marcin Kaminski (Lech Poznan), Damien Perquis (Sochaux), Lukasz Piszczek (Borussia Dortmund), Marcin Wasilewski (Anderlecht), Jakub Wawrzyniak (Legia Warszawa), Grzegorz Wojtkowiak (Lech Poznan).
Midfielders: Jakub Blaszczykowski (Borussia Dortmund), Dariusz Dudka (Auxerre), Kamil Grosicki (Sivasspor), Adam Matuszczyk (Fortuna Dusseldorf), Adrian Mierzejewski (Trabzonspor), Rafal Murawski (Lech Poznan), Eugen Polanski (Mainz), Ludovic Obraniak (Bordeaux), Maciej Rybus (Terek Grozny), Rafal Wolski (Legia Warszawa).
Forwards: Pawel Brozek (Celtic), Michal Kucharczyk (Legia Warszawa), Robert Lewandowski (Borussia Dortmund), Artur Sobiech (Hannover 96)
Reserves: Grzegorz Sandomierski (Jagiellonia Bialystok); Arkadiusz Glowacki (Trabzonspor), Marcin Komorowski (Terek Grozny); Ariel Borysiuk (Kaiserslautern); Ireneusz Jelen (Lille), Arkadiusz Piech (Ruch Chorzow), Michal Zyro (Legia Warszawa).