Euro 2012 final
The pass masters
Miguel Delaney highlights some of the main issues for the final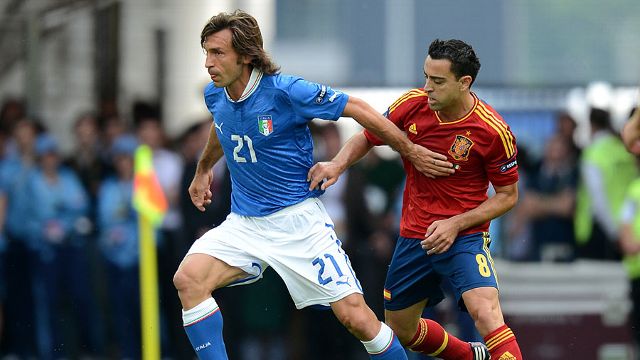 Pass masters
There was a telling moment just eight minutes into the Germany v Italy semi-final that indicated which way the match was going and effectively summed up the tournament. As Daniele De Rossi set himself to receive the ball about 30 yards from the German goal, he suddenly had Bastian Schweinsteiger bearing down on him like an express train. The former was relaxed; the latter in a rush. It told.
De Rossi simply backheeled the ball to take Schweinsteiger completely out of the game and simultaneously set up Andrea Pirlo. There was the reason Germany were eliminated. There was the reason Spain and Italy are in the final. The latter two had control; Germany lacked it.
It has been the element that has defined and decided Euro 2012. Ultimately, Germany went out for similar reasons to England, Greece, Czech Republic, Ireland and France.
Whereas those sides didn't have the necessary composure or self-assurance in defence to actually play a defensive game at the level at which they were eliminated, the Germans did away with dependability in pursuit of dynamism. They went too far. Germany, for example, could have done with the composure of the Italians and Spain.
It is a fact that should completely reframe the debate about Spain's supposedly 'boring' style. With the accumulated fatigue of the last four years having brought them right to the brink, they have exerted just enough control of games to push them right to the end.
There, in the final, it's no coincidence that they face the team that have most consciously adopted their poised possession game. Kiev sees a clash between the two finest passing teams in the tournament. The big question, though, is who will maintain the greater control.
In the opening group game, after all, Italy effectively ceded possession to Spain and played a counter-attacking game out of acceptance of the fact that the world champions are the superior technical side.
Since then, though, the dynamics have shifted sufficiently to bridge the gap. Italy have grown in confidence and momentum; Spain have declined in fitness and sharpness, with the difference between the sides typified by the contrasting tournaments of Andrea Pirlo and Xavi.
On the eve of the semi-final, Italy manager Cesare Prandelli said it would show a "lack of maturity" for his team to suddenly abandon their approach. Against the masters of that approach, we're going to see how mature Italy really are. Who can take control of the final and, thereby, the trophy?
Forward play
That Italian-German semi-final also summed up another key issue of the final – but in a somewhat ironic way. His erratic career aside, Mario Balotelli's match-winning performance was remarkable precisely because it was so rare in this tournament: an actual forward proved the difference.
Look across the current top-scorer standings: as it stands, there are 15 players on either three or two goals.
For one, that means that – unless one of Balotelli, Fernando Torres or Cesc Fabregas step up – the tournament is likely to see its lowest-scoring Golden Boot winner since it expanded to 16 teams. Secondly, there's the fact that the goals came in single games for most players. Cristiano Ronaldo, for example, got two of his three against Netherlands, while Mario Mandzukic got both of his against Ireland.
More than anything, that illustrates that this has not been a tournament for strikers. It has been dominated by midfielders, with Pirlo and Spain again the best examples of this.
Vicente del Bosque's side, of course, only play this contentious 4-6-0 formation as a response to the increasingly defensive approaches of opposition sides against Spain – most obviously, the novel 3-5-2 Italy successfully implemented in the opening game.
The idea, in theory, is that Spain can open up new angles because the marking defenders won't be so familiar with the runs or positions. That adds another layer of intrigue to the final. Will Del Bosque take the risk of attempting the same formation against Italy as he notoriously did in the opening game? Will Italy even line up so defensively? Would that necessitate a response from Spain?
And the biggest question of all: will any of that actually create the space for a pacey, more direct forward – such as Balotelli or Torres – to settle the tournament itself? After everything that's happened, that would be ironic... but also oddly probable.
History or hysteria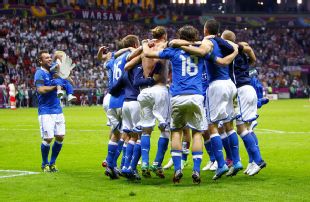 Jogi Low was emphatic when he said: "The past... has no effect on our players."
The German manager was probably right. Before any match, too much is made of previous fixtures that took place between players who retired years before. Indeed, they probably have as much relevance as matches that take place between teams from thousands of miles away.
On this night, though, the details went against Low. His German team still haven't beaten Italy in a tournament match. And that very fact creates another set of historic conditions for this final: Spain have never beaten Italy in a tournament match without need for penalties either.
Arguably even more important, as we all know, is that no side has ever won three major tournaments in a row. Then there's the potential coup de grace: Italy have tended to win tournaments immediately preceded by a scandal.
But, if Low is correct and such previous fixtures simply don't condition current players, there is at least a question over whether all of the talk has a subconscious effect.
If Spain, for example, are within minutes of the most momentous victory in international football history, will this suddenly dawn on them and cause them to retreat or mistakenly refuse to take risks, despite it all having had no tangible effect for the previous 90 minutes?
Given that this Spanish side have already set and broken so many records, there is an equal argument that such supposed truisms simply don't apply to them. What's more, they effectively began this remarkable run by demolishing a series of other historic mental blocks.
Before June 22, 2008, they had very rarely got past the quarter-finals of a tournament, had almost never won on penalties and had never eliminated Italy from a competition.
That night, they did all three. If they can manage something similar, they can complete an even more remarkable set of three.