Portugal (2) 0-0 (4) Spain
Profligate Portugal pay heavy price
Andy Brassell reflects on Portugal's heart-breaking penalty shootout loss to Spain, and highlights the positives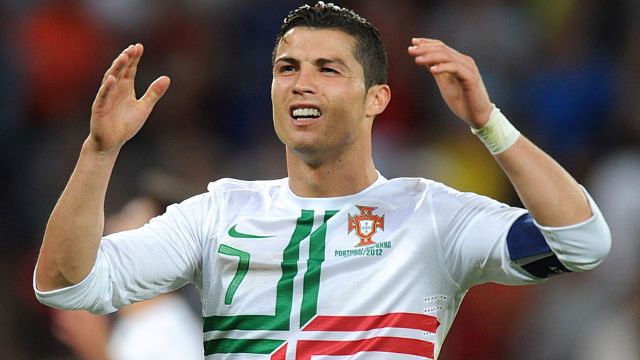 They came, they gave everything, but in the end, it just wasn't enough. When the dust settles on Portugal's agonising penalty shoot-out defeat to Spain, there will be feelings of pride for a sterling team - and squad - effort against the odds.
For now, though, it is natural enough to entertain a few regrets. Perhaps the biggest will be the folly of the decision to nominate Cristiano Ronaldo as the taker of the fifth penalty that never arrived, a decision will almost certainly haunt all involved for a while to come.
This was as clear as chances come to do what many thought impossible, and depose the European (and world) champions, a team assumed to have already sealed their legacy as one of the greatest to play the game. Portugal pressed Spain with an uncommon vigour, drawing a number of misplaced passes that had the viewer pinching themselves in disbelief.
As the second half unfolded the shock was on, as good chances fell to Portugal. The worthy Hugo Almeida arrowed a couple off target with his hefty left foot before the defining moment came just before the final whistle. As Portugal broke out, a gap opening on the right of Spain's defence begged Raul Meireles to thread the ball through for the advancing Ronaldo. The Chelsea man's pass forced his captain to check his run, and he slashed his shot over the top.
It would be stretching the truth to imply that Paulo Bento's side had a flurry of opportunities, but they had sufficient opportunity to win the game against such illustrious opposition. These chances that came and went eventually defined the difference between a creditable tournament and a glorious one. Sadly, it always seemed that this might be the case.
A dour, destructive side under Carlos Queiroz, Portugal have been transformed under Bento into an attack-minded beast - a philosophy that the coach told journalists he "wouldn't change for anyone" in the run-up to this semi-final. Portugal hit 37 goals in Bento's first 13 games in charge, but there was considerable alarm among fans and media back home that the team arrived in Poland winless in 2012, following a run of one goal in three matches.
Over the first few days at their training camp in Opalenica, the players all made the same noises; that the preparation was coming along well, and that the finishing touch was all that was missing. Yet the thrilling win over Denmark and Ronaldo's explosive display against Netherlands that saw Portugal through a tough group shouldn't mask the fact that they were generally profligate.
In the final stanza of the defeat with Germany, they passed up a series of presentable opportunities to snare a deserved draw. An amazing series of misses threatened to let Denmark off the hook, and it was a similar story in the quarter-final against Czech Republic before Ronaldo's late header finally broke through.
Many will point the finger at the skipper; damned after missing a raft of chances against the Danes he would normally bury without a second thought, lauded to the heavens after destroying the Dutch, and no doubt given a few more digs after his team's exit.
Yet he is simply the most visible culprit rather than the only one. Nani's lack of a goal was the most disappointing feature of his generally good tournament, Joao Moutinho admitted after the match against the Czechs that he "should score more" and Raul Meireles rarely even got so much as a shot off. Against Spain, Portugal were never going to get enough sights of goal to allow themselves these sort of mistakes.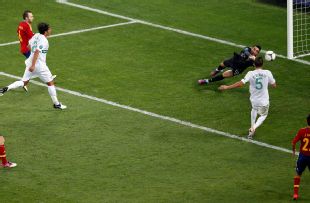 This should not, however, detract from what was generally an excellent Euro for Bento's men. The coach himself surely deserves the biggest share of plaudits, having inherited a hopeless looking situation in October 2010. Portugal had been on the slide for a while, had scraped qualification for Euro 2008 and World Cup 2010 and the underlying issues in terms of tactics and personnel had gone unaddressed; first by Luiz Felipe Scolari, and then by Queiroz.
When the former Manchester United assistant was fired following a Portuguese Football Federation (FPF) disciplinary hearing relating to his behaviour towards two doping officials in May 2010, Portugal were in a hole. Bento's new team had gleaned just one point from their opening two Euro 2012 qualifiers in a truncated five-team, eight-game group.
You could easily argue that the uphill task brought the best out of Bento, sometimes chided for his conservatism when in charge of Sporting Clube de Portugal. He said that the aim was for Portugal to win all their remaining games, and they nearly did, before eventually reaching the finals by hammering fancied Bosnia and Herzegovina in a play-off.
The success was in reaching the finals, and little more was expected when Portugal landed in Group B with three previous winners - two tournament favourites and the Seleccao das Quinas' modern-day bogey side, Denmark. That Portugal continued to flourish in Poland and Ukraine was due to a continuation of Bento's winning recipe from qualification; simple, easy-to-understand tactics (not a million miles away from the dynamic 4-3-3 employed by Andre Villas-Boas at Porto) and getting the best out of Ronaldo by playing him in his preferred spot on the left. That the Real Madrid goal machine is no longer considered an international disappointment is proof of a job well done and provides optimism for the future.
While Scolari was known for leading his players with a gruff, bear-like demeanour, whipping up a frenzy of flag-waving fervour, Bento is a little more circumspect, but blunt enough in his own way. He has certainly succeeded in forging a formidable spirit that some thought impossible to create in a squad of far-flung, mega-rich stars.
Portugal didn't expect it to feel this bad, but then again, they didn't expect to be here in the first place. In time, they may well look back at this near miss as a reference point to propel themselves to greater triumphs.