Spain 4-0 Ireland
Ireland crash out as Torres sparkles
John Brewin was in Gdansk to see Ireland ripped apart and thrown on the Euro 2012 scrapheap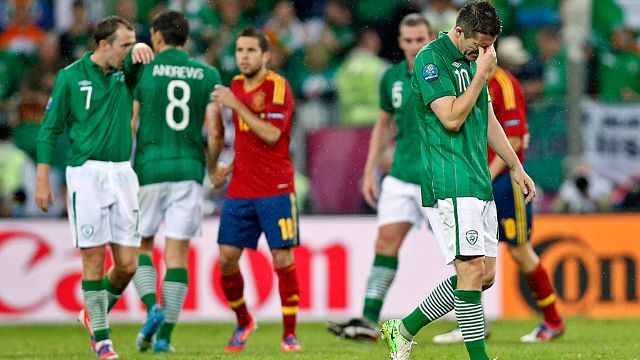 The sad death of a dream in green was strung-out and pain-ridden. The mortal blows may have come early in each half but the torture was lengthy. Ireland were humiliated by a Spain team who did not even have to employ their requisite 1-0 scoreline. Instead, they piled on the goals, able to play football in comfort and freedom and aided by an outbreak of Irish weather that provided a surface suited to the zip of their passing game and ran out 4-0 winners.
"They were like an orchestra," said Giovanni Trapattoni of a team who had underlined they are the toughest challenge in international football.
As Ireland suffered a wait of 43 minutes between their first two shots of the game, a study in Spanish possession took place. This was a tale of red, green and amber, of Ireland chasing Spain in vain, inside a stadium bedecked with Baltic imagery.
It may have been the first time in his entire reign that Giovanni Trapattoni had not named his Ireland starting XI at least a day previously. But the surprises ended there. When Simon Cox is your joker, then you have not been dealt much of a hand. A glance at Spain's switch of Fernando Torres for Cesc Fabregas - over €100 million worth of talent - was a measure of odds that proved insurmountable.
To offer mitigation for the Irish, Gdansk presented perhaps the most difficult task they have ever faced in their visits to major finals. It was the first time that Ireland have played the defending champions at a major tournament. Considering Spain's dual honours, this was a greater test than Italy in Giants Stadium in 1994, or the Dutch at Euro '88. And Ireland just cannot call on the quality of players they had back then. Keith Andrews and Sean St Ledger, for all their honest endeavours, are not of the quality of Ray Houghton or Paul McGrath. That generation was never punished in this fashion.
The veterans from 2002 were as helpless as their younger colleagues. Richard Dunne and Shay Given were both culpable in Spain's first two goals, while Robbie Keane and Damien Duff were anonymous, with the man from the Galaxy's biggest first-half contribution a booking for a foul on Andres Iniesta. Keane played as a lone frontman, a role he has rarely thrived in. Chasing shadows was the order of his night. Behind the goal Keane was supposed to be shooting at, the line judge was doing exercises to keep warm, so redundant was his first half.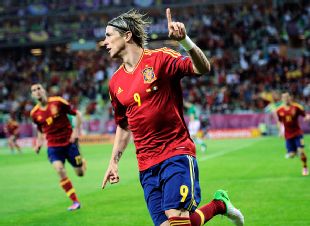 Ireland may have lasted longer than against Croatia before committing a grave error but there was barely a minute in it. When Torres scampered away after loose Irish defending, his goal was inevitable. Given, as against Croatia, lacked the shot-stopping sharpness he has patented throughout his long Irish career. When David Silva repeated the agony at the start of the second half, Given, again slow to react, found himself picking the ball out of the net at the start of a half. He has done so in all four 45-minute periods that Ireland have played. Such moments are the reason for Ireland's demise.
Torres proved that Spain are far better with a genuine centre-forward, a focal point for their attacks rather than the round-robin pretentiousness of the 4-6-0 they employed against Italy. Iniesta and David Silva thrived off Torres' counterpoint, and Ireland's rigid formation could not block their freedom whatsoever. His second goal was a finish of confidence, unrecognisable from the ailing misfit that used to be seen at Chelsea. It also allowed Vicente Del Bosque to resume his art experiment, which he has not given up on. On for Torres, Cesc Fabregas scored late on with no other striker on the pitch.
"We put Torres in so he could do what he does best," said Del Bosque. "We also trust Cesc Fabregas and that's why he played in the first game."
After Fabregas' goal served as a final punch to the gut, Ireland's fans, understandably shell-shocked for much of the match, broke into a hearty chorus of The Fields Of Athenry.
"I am very sad for our fans, they cheered us, especially during the most difficult moments of the game," an admiring and apologetic Trapattoni noted. "I would say this to my players: they mustn't forget this."
As a lament for lost hope, that closing coda of song was a moment of genuine emotion and overwhelmingly Ireland's best moment of the tournament. On the pitch, the message was clear. Ireland had just not been good enough to escape becoming the first team to exit Euro 2012. Spain had exposed their shortcomings by painful means.
MAN OF THE MATCH: Fernando Torres Iniesta was the prime prompter and he had a reborn poacher to feed. Torres reannounced himself as the man to lead Spain's line with a display of the athleticism he was once renowned for. Two smoothly-taken goals were plundered and he wanted more, as was clear on his face when substituted.
IRELAND VERDICT: Pitiable rather than pitiful, they were simply dominated by Spain's galaxy of stars ahead of them. Trapattoni's selection of Simon Cox was odd, in that Robbie Keane then played as an unsupported frontman. But the problems at the back and in midfield meant that the forward line was rarely employed anyway. This was their heaviest defeat at a finals and it could have been more.
SPAIN VERDICT: Such was the ease of victory that it is difficult to fully tell if Spain are approaching their best. Still, it almost served as a valuable training session for them, and Del Bosque could even revert back to that 4-6-0 silliness when Torres was hooked for Cesc Fabregas. That the goals came so easily is something for their rivals to fear.
Follow John Brewin on Twitter @johnbrewinespn