With less than a week to go until Ukraine's opening match against Sweden and the warm up friendlies all wrapped up, there are still plenty of questions that remain about Oleg Blokhin's starting eleven. The tactical set up is more or less clear. Ukraine usually play with a 4-4-1-1, as they did in the 4-0 victory over Estonia: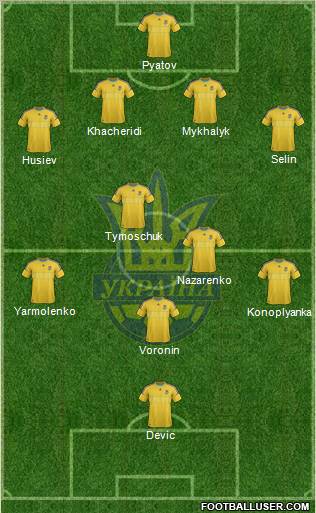 But the squad selection is still very much up in the air. In the 3-2 defeat to Austria, the the only changes made to the side were in goal, where backups Oleksandr Horyianov and Maksym Koval were each given a half of playing time, and at left back, where the more defensive-minded Yaroslav Rakitskiy replaced Yevhen Selin. Tuesday's 2-0 setback against Turkey saw a completely different side, as 8 of the 11 players that started against Austria were left on the bench. However, after the match it emerged that nearly half the squad was suffering from food poisoning and were deemed unfit to play. Because of these extenuating circumstances, it is impossible to draw conclusions about future squad selections from this match. Nevertheless, the preceding two friendlies provide a glimpse into Blokhin's tactical selections that we can expect to see in less that a week's time in Kyiv.
Goalkeepers
Over the six months Ukraine has lost three of its top keepers. Oleksandr Rybka tested positive for a banned substance and was banned until 2014. Andriy Dikan suffered multiple facial bone fractures, craniocerebral trauma, and a brain concussion following a collision with Zenit's Aleksandr Kerzhakov in March. To make things worse, the vastly experienced Oleksandr Shovkovskiy, the undisputed number one of the national team since the mid 90s, was ruled out following a shoulder injury.
Andriy Pyatov, who regained his starting place at Shakhtar after Rybka's suspension, is now the first choice. Maksym Koval of Dynamo Kyiv, named in November of 2010 as one of the 100 best young players in the world by the Spanish football magazine Don Balón, is considered one of Ukraine's most promising rising stars, but at 19 years of age he lacks international experience. His first cap came just last week, when he came on as a second half substitute against Austria. Oleksandr Horyianov, a veteran journeyman currently in his third spell at Metalist Kharkiv, rounds up the goalkeeper selection.
It is far from an ideal situation. Losing three top goalkeepers in the lead up to the tournament is a stroke of incredibly bad luck. But Pyatov is by no means a liability. Though sometimes prone to lapses in concentration, he is solid under pressure, good with his feet, and capable of initiating the counterattack with his distribution. He will no doubt start in the opening match.
Center Backs
In the friendlies against Estonia and Austria the Dynamo Kyiv duo of Yevhen Khacheridi and Taras Mikhalik started in the center of defense. Khackeridi is a tall, powerful defender, but injury prone and known to lose his temper. Mikhalik, whose club campaign was plagued by injuries (becoming a bit of a pattern, isn't it?), is physically strong and uncompromising, but far from graceful. Blokhin can also opt to go with the Shakhtar Donetsk partnership of Oleksandr Kucher and Yaroslav Rakitskiy. Ex-Barcelona man Dmytro Chygrinskiy will miss the tournament after a series of serious injuries.
Full Backs
At right back, Oleh Husiev, a converted right winger, is the preferred choice. Husiev is joint third on Ukraine's all time goalscoring list and has over 70 caps to his name. He is excellent attacking down the wing, but defensively has a tendency to drift out of position. Husiev can be utilized on either flank but usually starts on the right for the national team. His back up will be 21 year old Shakhtar-owned fullback Bohdan Butko. Butko is very quick and has a good delivery into the box, but much like Husiev can be a defensive liability.
On the opposite flank Yevhen Selin has established himself as the starter. Though he can also make overlapping runs in support of the wingers, he tends to be more conservative in his style of play than his counterparts on the right. Vyacheslav Shevchuk will be his backup, while Rakitskiy can also fill in on the left if need be.
Central Midfield
Without a doubt Anatoliy Tymoshchuk is the first name on the team sheet and the captain in the absence of Andriy Shevchenko. The Bayern Munich defensive midfielder is the only member of the squad to play outside of Eastern Europe. His tackling ability and high work rate are well regarded both in Germany and domestically.
There are a wealth options to partner Tymo. Thus far Blokhin has preferred Serhiy Nazarenko, an attacking midfielder who scored a fantastic long range strike in the 3-3 draw against Germany last year and is, along with Husiev, joint 3rd on the all time goal scoring charts. Oleksandr Aliyev presents another attacking option in the center of the pitch and can also play as a number 10 behind the lone striker.   Ruslan Rotan and Denys Harmash are more defensive alternatives, while both Mykhalyk and Rakitskiy can also play in the center of midfield if needed.
Wingers
Without a doubt the strong point of the squad. Andriy Yarmolenko and Yevhen Konoplyanka, both just 22 years of age, are two of Ukraine's brightest young talents. Yarmolenko, who is more of an inverted than a classic winger, often looks to cut inside and forms a formidable partnership with Husiev on the right flank. Yarmolenko and Konoplyanka are quick on the ball, with a powerful shot and the ability to beat defenders one on one. Both scored in the aforementioned 3-3 draw against Germany last year. The only other feasible option here is Husiev, who will only play if Yarmolenko is not fit or is forced to move positions for tactical reasons.
Forwards
The talismanic Andriy Shevchenko needs no introduction, but fitness worries will likely see him limited to an impact role off the bench. Andriy Voronin is also an experienced forward who has played in England and Germany. Voronin may not have an impressive goalscoring rate for the national team (7 goals in 69 caps), but he prefers to drop deep to pick up the ball and get involved in the build up play. The other three options are all question marks. Artem Milevskyi, who can play both as a target man and a second striker, is talented but frustratingly inconsistent. Serbian import Marko Devic is a versatile player who can operate on the wing as well as in the middle and is a constant nuisance for the defense with his incessant movement. Yevhen Seleznyov is a classic number nine who has never been able to replicate his club form with the national team.
Key Questions
Who will start in the center of defense?
At the moment Blokhin appears to favor the Dynamo Kiev partnership of Khacheridi and Mykhalyk, though Kucher and Rakitskiy started against Turkey. It is likely that whichever pairing he chooses, he will like to keep the dynamics of a club partnership in place.
What will be the role of the fullbacks?
In the friendly against Estonia both Husiev and Selin made themselves available to the wingers through overlapping runs. But in matches against stronger opposition, when Ukraine simply will not have the squad resources to dominate, they will not have the ability to get forward nearly as much.
Who will partner Tymoshchuk in the center of midfield?
Nazarenko played well against Estonia but his effectiveness was limited against Austria, when Ukraine were not able to assert themselves in the middle of the pitch with nearly as much ease. Considering the quality of opposition at the tournament, Blokhin will likely prefer a more defensive midfielder. As Aliyev is arguably the most attacking midfielder Ukraine have, he is unlikely to start. Don't be surprised to see Rotan given the nod. Interestingly, the choice of Tymoshchuk's partner will affect the movement of the fullbacks. Tymo often covers for Husiev when the latter makes runs to support Yarmolenko. If a player like Rotan or Harmash can do the same on the opposite flank, this will give Selin more freedom to roam forward, a luxury not afforded to him when Nazarenko starts.
Who will start up front?
Voronin is likely to play in support of a direct striker, but who that will be remains a mystery. Devic has played reasonably well when given the opportunity and will likely start, but Blokhin may want to go with a more direct, physical player such as Milevskiy. Aliyev is also an option as a number 10 behind a striker, but this is highly unlikely.
How will Ukraine play?
As Michael Cox pointed out, for underdogs the best strategy is to play defensively, be organized, and play on the break. Despite enjoying home field advantage, Ukraine is definitely an underdog in this group and should heed Cox's advice. The wingers have more than enough pace to trouble defenses on the counter, and this will likely be Ukraine's main strategy. The movement of the two forwards will also be key; if they can drag defenders out of position, this will leave plenty of space for the likes of Yarmolenko and Konoplyanka.  Dropping Nazarenko for a player like Rotan may be a necessary sacrifice of creativity in favor of stability; despite his playmaking abilities, Nazarenko leaves too much space for Tymoshchuk to cover on his own. The central midfielders must act as a shield in front of the back four, and though the wingers are primarily attacking players they will be expected to do their fair share defensively.  The supporting striker will also need to drop back and aid the two central midfielders in defensive duties; otherwise, Ukraine risks getting overrun in midfield against that sides that field a 4-3-3 or any of its variations.
(Edit: I suppose this section turned into more of a how should Ukraine play rather than a how will Ukraine play, but I apologize for nothing)
What can we expect?
Getting out of the group will be a success, and with the support of the home fans and a fair bit of luck, it is definitely a possibility. Sweden have a world class striker in Ibrahimovic but are more vulnerable defensively than they used to be. France, admittedly, look stronger and stronger with every match, but they too have their defensive frailties. England will have Rooney back for the third match which just happens to be against Ukraine in what is clearly a UEFA designed conspiracy to knock the  co-hosts out early (disclaimer: sarcasm). But England are England, whatever that means, and have been weakened by injuries to several key players. It's difficult to make predictions, but a 2nd place finish is not out of the question, if all goes right. But if Ukraine fail to keep their defensive shape and leave too much room for the opposition to work with, it could be an ugly few weeks for the Yellow-Blues.