Poles outflanked in defeat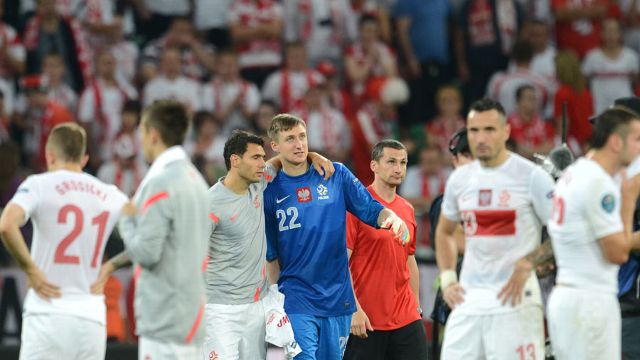 Richard Jolly on Poland's failure to match the Czechs on the flanks
CZECH REPUBLIC 1-0 POLAND
First Poland tried, and then they tired. The Czech Republic played a patient game against a side that needed to win, became more positive when their hosts ran out of steam and even turned their supposed strength - Poland's right flank - into something of a weakness.
The initial difference was not caused by tactics – 4-2-3-1 played 4-3-3 – but tempo. Poland's urgent starts have been a feature of their games. For the first 25 minutes, they pressed quickly and, often, high up the pitch, forcing mistakes even though their normal tendency is to let their opponents have the ball in their own half - as they later showed.
Franciszek Smuda made a couple of tweaks to his system. Right winger Jakub Blaszczykowski had more of a roving brief – indeed one chance came when he was in the inside-left channel to meet Ludovic Obraniak's pass – and it gave Poland more of a fluid front three. Obraniak, who started the opening game in the hole, is not a conventional left-sided player and tends to roam.
And, while Poland's focus has been on the right, there was a greater emphasis on the left in their initial determination to make a breakthrough. Left-back Sebastian Boenisch had been far less positive than Piszczek, the other full-back, but he was sufficiently advanced to draw a save with a 20-yard shot in open play.
Yet after the Czech Republic weathered the early storm and after their needs changed – Greece's goal against Russia meant a draw would result in their elimination – they gave their full-backs licence to attack. In the process, Poland's right side - seen as their great forte because of the alliance of Piszczek and Jakub Blaszczykowski - became arguably the visitors' favourite zone.
Piszczek was pinned back and nullified by the combination of left winger Vaclav Pilar, arguably the man of the match, and overlapping left-back David Limbersky. On the opposite flank, raiding right-back Theodor Gebre Selassie highlighted the lack of cover Obraniak gives Boenisch.
If bringing in Limbersky for the game against Greece, and shifting Michal Kadlec to centre-back, was one turning point, the turnaround in Czechs' campaign can be dated back to the half-time introduction of Tomas Hubschmann against Russia. Petr Jiracek moved to right midfield in the reshuffle, where, released from defensive responsibilities, he enjoyed the extra freedom to come infield and score in each of their victories.
Hubschmann also gave the Czech Republic a platform in midfield. It was notable he rarely strayed from his station in front of the centre-backs – in the first half, his centre-midfield partner Jaroslav Plasil was almost as deep – but also that he offered control in possession. It was partly because his side were less frantic – in the first half, when they thought a point would suffice, and then after Jiracek scored, they had no need to chase the game - but it is also his natural style anyway. Having exhausted themselves with their early efforts, Poland struggled to regain the ball in the second half. It was no surprise as, over the 90 minutes, Hubschmann completed more passes himself than their central midfield trio did between them.
And, in the manner of the modern-day anchorman, he retained his position while his full-backs sped past him into more advanced roles. Poland, for once, were outflanked.
GREECE 1-0 RUSSIA
Games like this can appear to defy analysis. Beyond pointing out that, as only two of their 31 attempts at goal were on target, Russia's finishing was woeful, there seems nothing logical about the outcome.
Nonetheless, there were several instructive details. While the unfortunate Aleksandr Kerzhakov took his Euro 2012 record to 14 efforts, none on target, it was telling that Igor Denisov also ranked among the profligate.
In the opening two games, Russia's holding midfielder did not have a single shot. Here he had six, all in the second half. It was a sign that even the anchorman, who often only has the two centre-backs and the goalkeeper behind him, ventured forward in the search for a goal.
More predictably, Denisov was Russia's most prolific passer. He normally is, but the unusual element was supplied by the numbers: 118 passes attempted, 110 completed. They are Xavi-esque and, while Denisov rarely wastes a pass, it illustrates how far Greece retreated, allowing Russia to have possession in three-quarters of the pitch.
It meant their defence had cover. For instance, while Giorgos Samaras had offered the hapless Jose Holebas little protection against Poland, on this occasion the winger seemed a second left-back at times, helping Giorgos Tzevallas.
Yet it is not as simple as saying Greece played a flat back nine – not least because, rather than playing three defensive midfielders, Giorgos Karagounis was more advanced than usual, operating behind striker Fanis Gekas in a 4-2-3-1 formation. And, on the isolated occasions they did go forward, Greece displayed greater positivity, sending several players into the Russian box. Besides Karagounis' goal, they should have had a penalty, hit the woodwork and forced a fine save from Vyacheslav Malafeev. View it that way and, though the Greeks were fortunate that the Russians' radar was so faulty, a counter-attacking plan was executed excellently.

Conversations