Spain fluidity drowns diamond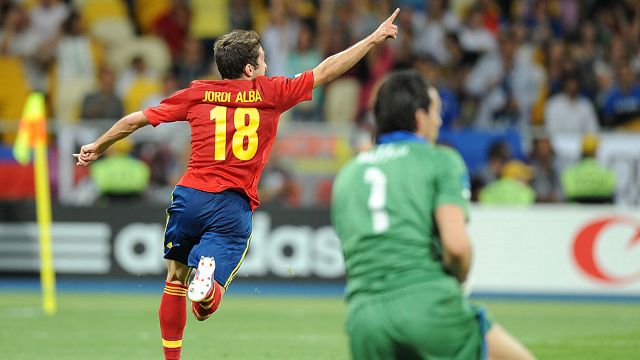 Richard Jolly on how Spain used their flanks to get the better of ten-man Italy with ease
SPAIN 4-0 ITALY
Less proved to be more for Spain. The pass masters saw less of the ball than in any game this tournament and did more with it; scoring more goals than any other side in a European Championship final and earning more accolades as they won a third successive major international tournament.
The key lay not so much in the formation – the anticipated 4-2-4-0 – as the approach. Spain played at a higher tempo, committing more men into forward positions and playing a more open game. There was only one shot on their goal in the 210 minutes of the quarter-final and semi-final. Italy had four – an indication that Cesare Prandelli's side were intent on attacking themselves but also a sign Spain were prepared to risk losing the game in order to try and win it.
They also looked to exploit the weaknesses in Italy's 4-diamond-2 system. Every system has its potential flaws and, in Prandelli's preferred shape, it is the lack of width. Coupled with Spain's focus on the middle, it meant each of the four full-backs was available as an outlet. Only one, however, showed a willingness to run with the ball or to run behind the defence. He was Jordi Alba and his goal was the apotheosis of their striker-less philosophy; proof that Spain could compensate for the absence of out-and-out forwards by springing runners from deeper positions. Without an immediate opponent, it was easier for Alba to run free. However, it was also a sign of Spain's more positive approach that, in open play, both central defenders made runs into the Italy penalty area – and in Sergio Ramos' case, into the six-yard box.
The first goal was also significant for the involvement of a left-back. Cesc Fabregas got outside and behind full-back Giorgio Chiellini to cross for David Silva to head in. In effect, it was a role reversal – Silva arriving as the false nine, while Fabregas provided the right-wing cross. It also highlighted the positional difficulties of a defence facing fluid attackers.
Spain put more emphasis on manoeuvring Italy out of position. By spreading passes quickly to either flank, there were times they stretched Italy out so that the diamond midfield had to become a second bank of four, more straight line than rhombus. That moved Claudio Marchisio and Daniele de Rossi, the men on either side of the diamond, away from their comfort zone, and opened up room behind the lines. By looking forward earlier, Spain made it harder for Italy to regain their shape.
They like to overload an area where Italy outnumber most opponents. It is no secret that many of their chances result from quick inter-passing around the edge of the penalty area and each of the first three goals followed a ball from that zone between the lines – one from Andres Iniesta, two from Xavi. If that highlighted that Andrea Pirlo is a deep-lying midfielder, rather than a defensive one, Spain shifted his bodyguards, De Rossi and Marchisio, around. Pirlo, arguably, was not close enough to Iniesta for the opener, Xavi escaped De Rossi for the second and then supplied the third after Pirlo was caught upfield when an attempted one-two broke down.
The other factor was the angle of the pass. All four goals resulted from a ball, angled from a central area, to a runner in a slightly wider position. It suggested that, broadly, Spain had targeted the areas between the centre-backs and the full-backs on either flank. Those are the zones that, logically, would have been occupied had Italy played 3-5-2, as they did in the Gdansk group game between the two sides, which finished in a 1-1 draw.
Where Spain were helped, of course, was that Thiago Motta's injury reduced Italy to ten men. Then they were playing 4-3-2, neither protecting the flanks nor having strength in numbers in the centre. Yet it was also significant that Spain often bypassed Sergio Busquets, their holding player but one of the least penetrative passers. Xabi Alonso, Xavi, Alba and, until he went off, Iniesta, all had the ball at least 50% more.
The result renders it rather academic but when they had 11 players, there were several elements to Italy's attacks. They aimed diagonal balls between the Spanish centre-backs or, in the case of Pirlo, a straight pass for Mario Balotelli to run on to. They also aimed for Balotelli and Antonio di Natale with crosses. But by playing with two strikers, they opened up space. Spain created more by defending deep, making the midfield bigger and it harder for the Italian quartet to subdue their sextet. And they, criticised for passing it sideways beforehand, were more adventurous by looking forward and reaped their rewards in the shape of four goals.

Conversations