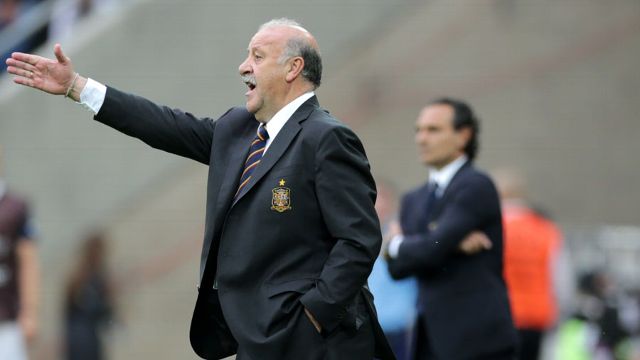 Richard Jolly assesses the tactical considerations ahead of Spain's Euro 2012 final against Italy
From Italy's back three to Spain's front none, the Euro 2012 final features the tournament's two most distinct teams tactically. It could be 3-5-2 against 4-6-0, systems no other sides have used. It is almost certain to be congested in the centre of the pitch. These might be the areas where the final is decided:
THREE AND EASY?
Italy made an unexpected switch to 3-5-2 for the opening game against Spain; as it worked, there must be a temptation to reprise those tactics. It created passing angles for Daniele de Rossi, an ersatz centre back, and Andrea Pirlo, the deepest of his midfield, in areas where Spain found it harder to press.
However, it is worth remembering that Andrea Barzagli was out injured then and, since his return, Italy have played a back four, while they would not have the element of surprise if they reverted to three central defenders. Were Cesare Prandelli to do that, he would have a decision to make: should he put De Rossi in the back three – and, if so, which specialist centre-back does he drop – or keep him in midfield and omit Riccardo Montolivo?
STRIKER LIGHT
Spain's use of a false nine has been one of the most contentious tactics of the tournament. Several factors suggest they will start the final without a specialist striker. Vicente del Bosque seems to prefer Fernando Torres as an impact substitute, while Alvaro Negredo was anonymous when starting against Portugal. Plus, with Italy probably fielding four central midfielders themselves, the probability is that Spain, who prefer to outnumber opponents in the centre, will opt for an extra passer. But if Italy play a back four, and if they want, that should allow them to defend higher up the pitch. It is not their normal tactic, but it worked for Portugal in the semi-final.
STRIKING UP
Because they have the ball for the majority of the time and their opponents tend to be focused on preventing goals rather than scoring them, Spain have had comparatively little defending to do. In particular, the centre-backs, Sergio Ramos and Gerard Pique, have had little of a certain type of defending to do. Portugal's sole striker, Hugo Almeida, did not try to break beyond them and nor did France's Karim Benzema, who tended to drop off to get the ball. But Italy's Mario Balotelli will be on the shoulder of the last defender, trying to spring the offside trap. It is worth remembering that that is how Antonio di Natale scored Italy's goal in the June 10 group game against Spain.
THE PIRLO PROBLEM
It is the question to trouble every team that has encountered Italy: how to stop Andrea Pirlo exerting such a big influence? Germany devoted a man, Toni Kroos, to him, England didn't – and indeed abandoned all pretence of trying to prevent Pirlo having the ball as the game wore on – and only Croatia, in the second half, came close to nullifying him. In the opening game, it was Pirlo, on a rare foray forward, who set up Di Natale's goal. Spain's answer is likely to involve pressing Pirlo, a duty that may be shared between Cesc Fabregas, David Silva, Andres Iniesta, Xavi and Xabi Alonso.
CROWDED MIDFIELD
It is an understatement to say that space could be at a premium in the centre of the pitch. Italy's diamond is comprised of four central midfielders; Spain are likely to field six midfielders, assuming Cesc Fabregas starts as the false nine and considering that David Silva is a winger in name only. Both he and Andres Iniesta tend to drift infield into what promises to be the most congested part of the pitch. If so, Spain will have a numerical advantage there but it should be sufficiently crowded to present a challenge even to a side so accustomed to playing a short passing game. It may be worth considering that they had two-thirds of the possession in the group game between the two sides.
WINGING IT
With the concentration of players in the middle, there is likely to be room on the flanks. As an out-and-out winger is unlikely to start, however, if anyone is to exploit it, they will have to come from deeper positions.
For each side, the spare men when they have possession are likely to be the full-backs or, perhaps, wing-backs, in Italy's case. Spain's select themselves, but it has been a theme of their progress that they are reluctant to trust right-back Alvaro Arbeloa in possession. Left-back Jordi Alba is a more natural and more dangerous attacker. It is important for Italy that Claudio Marchisio, the furthest right of the central midfielders, offers his right-back support. Quite who that right-back is remains to be seen: Federico Balzaretti played there in the semi-final win but, with Christian Maggio available again and Ignazio Abate fit, Prandelli can pick from three. If he opts for wing-backs, Balzaretti is certain to switch to the left; if not, Giorgio Chiellini could continue there. Balzaretti is much more willing to raid forward than Chiellini, a defender first and foremost. Striker Antonio Cassano also offers some width for Italy, making runs to either flank.
GAME CHANGERS
With the potential of a close game, substitutes could be match-winners. Spain seem to have more who could fit that bill than Italy, who may only have Di Natale. Thus far, the Udinese striker has never been on the pitch at the same time as Balotelli – one has replaced the other, or vice versa. Del Bosque has the option of recalibrating his front three – and indeed of fielding a more conventional front three – with Jesus Navas, Fernando Torres and Pedro. Torres offers a more direct approach as a striker who goes in behind defences, while Navas, only used as a substitute so far, is the only right winger to take the field for Spain. After two influential cameos, Pedro may be the likeliest to start, perhaps because he is the closest thing to the injured David Villa in the squad, capable of playing on the left but of breaking infield to shoot, but selecting him would involve moving Iniesta. Against Portugal, Del Bosque did so effectively by removing Xavi and putting Iniesta in a deeper role.

Conversations