Low leaves Germany high & dry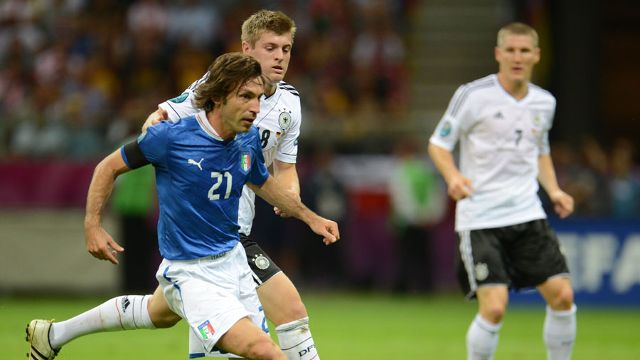 Germany's desire to nullify the threat of Andrea Pirlo left them fatally imbalanced, writes Richard Jolly
GERMANY 1-2 ITALY
Normally when a side switches tactics for one game, it is an underdog trying to stop a favourite, rather than vice versa. This was a rare exception, Germany looking to find a way to combat Italy's unusual shape and nullify their playmaker Andrea Pirlo. Both the result and the manner of it shows that it failed.
Even with Germany altering their approach because of him, Pirlo was still Italy's most prolific passer and helped provide the breakthrough. From Toni Kroos' failure to mark him out of the game to Germany leaving themselves short-staffed on the right flank, the pivotal first goal could be traced back to Joachim Low's decisions. Defeat as a whole was attributable to the changes.
But it is partly Pirlo's presence and partly Italy's formation - calling it 4-4-2 is deceptive as 4-diamond-2 is a more accurate description - that presents opponents with a dilemma. Low responded by fielding an imbalanced side with a striker, Mario Gomez, a left winger, Lukas Podolski, and four central midfielders to match the Italian quartet.
The intention was for Kroos to shadow Pirlo and, when Germany had the ball, for Kroos, Mesut Ozil and Sami Khedira to rotate and share the right-sided role. As each was more inside-right than outside-right, however, it was left to right-back Jerome Boateng to supply the genuine width and they often lacked an outlet on the right. Although two of Boateng's crosses almost led to goals, he is not a natural attacking full-back.
In trying to strengthen one department, however, another was weakened, perhaps fatally. By aiming to stiffen their spine, Germany left the right flank undermanned. In one respect, it was an understandable gamble - Italy's left-back Giorgio Chiellini is a mirror of Boateng, a taller defender more accustomed to playing in the middle of defence for his club and thus less likely to get forward - but it backfired for the opening goal.
It highlighted several elements of Italy's attacking play. First Pirlo, operating as quarterback in the centre circle, played a diagonal pass to the left flank. There Chiellini had advanced unchecked. What followed illustrated the division of responsibilities between the strikers: Antonio Cassano is charged with offering width, Mario Balotelli with being the target man in the middle. The Milan man crossed, the Manchester City man finished.
The second goal illustrated Balotelli's other duty. While Cassano moves horizontally across the pitch, Balotelli has to run vertically. Italy have been trying to get him to breach offside traps throughout Euro 2012 but, when he had burst behind defences, he had not scored. On this occasion, he did. A second significant element was that the long pass came from Riccardo Montolivo on the left where, again, there was more space. The other factor, though, was that it came on the counter-attack from a German corner when Italy were rewarded for leaving both strikers on the half-way line.
Cassano also benefits from the presence of four central midfielders. When he dropped off, the German centre-backs were reluctant to follow him, but it was harder for the holding midfielder Bastian Schweinsteiger to pick him because of whichever of Montolivo and Daniele de Rossi was at the tip of the Italian diamond at any given point.
It was unsurprising that, two goals down at half-time and with his initial plan having failed, Low reverted to Germany's usual system, playing 4-2-3-1. If that was designed to exploit Italy's narrowness, then it was negated when Cesare Prandelli went like for like, with Alessandro Diamanti becoming the fifth midfielder after replacing Cassano.
Low's final gamble was to dispense with his anchorman by moving Schweinsteiger to the right and removing Boateng. It is worth remembering that, until the last three seasons, Schweinsteiger was largely used as a right-sided midfielder; here, he was almost one. In effect, it meant Germany had two highly attacking full-backs – Philipp Lahm and Schweinsteiger – looking to aim crosses at Miroslav Klose.
Italy, while playing deeper, looked to counter-attack either side of the two centre backs, the only outfield German players who remain focused on defence. In particular, they looked at the gap left behind Lahm and outside the left-sided centre back, Holger Badstuber and, through breaks in that channel, Claudio Marchisio, Diamanti and Antonio di Natale all had chances to complete the victory.
Meanwhile, it was a sign that Low's plans ended up in ruins that Kroos, brought in for a specific job, ended up playing three positions.

Conversations