Richard Jolly examines the top tactical trends seen so far at Euro 2012 and the ramifications of teams' different approaches.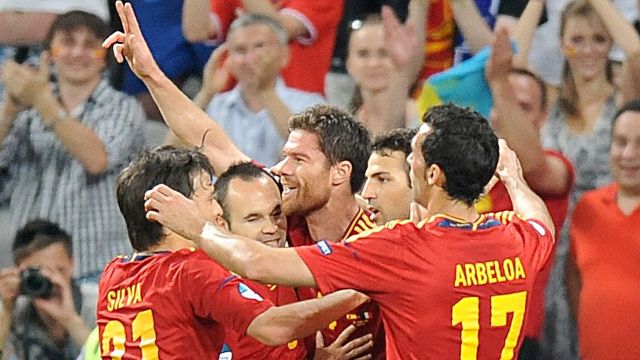 O SOLE TRIO
The dominance of the back four has been reinforced. Only one team began a game with a back three, and even then for only two matches after a rethink. After losing Andrea Barzagli to injury and having been beaten 3-0 by Russia in their final warm-up game, Italy played 3-5-2 against Spain and Croatia with midfielder Daniele de Rossi as an ersatz central defender. Nevertheless, they illustrated why the tactic should not be defunct, not least because of the influence De Rossi exerted. A less successful reversion to a back three came from Netherlands in the closing minutes against Denmark although, by removing a left-back for another forward, they simply overloaded in attack.
THE FLAW OF FOUR
The death knell really should be sounding for 4-4-2. The need for five players in the midfield area, and three in the centre, is ever more apparent, whether by playing 4-2-3-1, 4-3-3, 3-5-2 or 4-6-0. Teams with a midfield quartet have found themselves outnumbered and out-passed except when playing sides with a similar shape. Croatia and Ukraine at least played 4-4-2 with an anchorman and a more adventurous central midfielder: otherwise it leaves room either between the lines or ahead of the midfield. Sweden, whose shape was more 4-4-1-1but with a striker in Zlatan Ibrahimovic who doesn't defend, England and the Republic of Ireland all used the purest 4-4-2 and each struggled to retain the ball. In the British Isles' variants, it has now become a defensive system, two banks of four retreating and ceding the midfield to a side with an extra player there. The one exception to the rule, because they don't play 4-4-2 in the British sense, is Italy, who, after their experiment with 3-5-2, prospered with a midfield diamond. However, they effectively had four central midfielders, meaning they could congest the centre of the pitch and control the game.
The only win by a side playing anything like the conventional 4-4-2 - two wide midfielders and two strikers, even if one was behind the other - against a side with a different formation all tournament was Sweden's victory against France. It suggests 4-4-2 can only work against 4-4-2.
THE SPAIN GAME
Spain's four opponents have something in common. All have amended – and in some cases, radically altered - their tactics to face the world champions. Broadly, two succeeded - Italy earned a draw playing 3-5-2 while Croatia's 4-2-3-1 probably would have earned a point but for their attacking changes, due to a need to win - and two failed, Ireland stranding Simon Cox in no-man's land between midfield and attack and France, after seeing Croatia use a right-back on the right of midfield, copying them rather less impressively, as Mathieu Debuchy struggled. The most recent three have all attempted to bolster the midfield, without coming close to matching Spain for possession. Vicente del Bosque's team, meanwhile, have been pioneers with their controversial 'false nine', or striker-less, system, meaning they always outnumber opponents in midfield.
PLAY TIME
Think of the players of the tournament and the majority are central midfielders. Most, indeed, are midfielders of a certain type, known either exclusively or primarily for their passing - and for others, like Bastian Schweinsteiger and Steven Gerrard, distribution has been a factor in the excellence. The playmakers have reigned supreme, perhaps because football has become enough of a non-contact sport that it is harder to halt them or because opponents have not devised plans to counter them.
ALL RIGHT
It is a generalisation, but there tend to be more attacking left-backs than right-backs in football, perhaps because the scarcity of left-footed players means many cannot move infield. Not in Euro 2012, however, where right-sided players like Debuchy, Darijo Srna, Joao Pereira, Alvaro Arbeloa, Theodor Gebre Selassie, Lukasz Piszczek, Christian Maggio and Ignazio Abate have spent much of their time on the front foot. England's right-back, Glen Johnson, might have been a greater attacking weapon that the right winger, James Milner. Even an unadventurous right-back like Lars Jacobsen has created a goal, hinting at the reasons for their prowess: many a left winger has not tracked back, while some countries have not even had a winger, leaving the full-backs with space. Two right-backs, Debuchy and Srna, advanced so much they ended up playing in midfield, with mixed results.
INVERTED WINGERS
They are increasingly common, but there are times when the conventional winger feels a dying breed, such is the proliferation of players operating on their 'wrong' flank – left-footers on the right and vice versa. Netherlands set the tone with Arjen Robben and Ibrahim Afellay; Spain, whose wingers Andres Iniesta and David Silva are more midfielders anyway, are other trendsetters, but plenty of others emulate them. Even Ireland, who otherwise played a conventional 4-4-2, did so with Damien Duff and Aiden McGeady on the opposite wings. Even players on their natural sides - the Czech Republic's Petr Jiracek and Germany's Thomas Muller and Marco Reus, for instance - tend to look infield.
IMPERFECT TEN
Either players have been unusually well behaved or referees have been strangely restrained. Whichever, there has been only one red card since the opening game - with Keith Andrews' dismissal against Italy coming too late to force any changes to Ireland's tactics. It is a shame – in the sense that it is intriguing how managers rearrange their players when they only have 10. Greece's Fernando Santos excelled when a man short against Poland, playing 4-4-1 without the ball and 4-2-3 with it, with Dimitris Salpingidis' speed helping him double up as midfielder and forward.
TOP TACTICS
The best side tactically? This vote would go to Croatia. Slaven Bilic amended his team according to the opponents and made a mark with his side's shape in all three games. Against Ireland, he played with two strikers, who scored three goals between them. Against Italy, when that was not working, he performed a half-time overhaul by moving to 4-2-3-1; Mario Mandzukic, moved to the right wing in the reshuffle, scored the equaliser. Against Spain, he kept the system the same but altered the personnel with Srna taking over on the right wing, in a display that merited a point.
WORST TACTICS
Rather than identify the single poorest team tactically - Ireland have suffered enough - the poorest tactical displays, for this observer came from the Irish, when they permitted Spain record amounts of possession; Netherlands, with a kamikaze team selection and a disregard for defending against Portugal; Greece, who contrived to get plenty of players behind the ball against Germany while still being scythed apart at will; and England, who played a system that allowed Italy's best passer, Andrea Pirlo, a free rein.

Conversations