Already eliminated from the tournament, Sweden now look to a final match against France. A game that should have been the decider for whether or not Sweden would qualify for the quarter-finals, but turned out not to be. It is worth mentioning that there are a lot of Swedish fans who are travelling for this fixture alone with tickets and hotels booked since long ago. I struggle to think of a more depressing journey.
On a more amusing note, the Swedish fans in Kiev have spent the weekend singing: "We're better than the Irish".  A display of good humour against a side that has also been eliminated, and thus far also true.  Sweden would have to lose the last game by 6 goals for the song to be falsified.
France will feel optimistic about their chances of reaching the quarter-finals. Ukraine have to beat England by no more than one goal, whilst Sweden must win big (at least two goals) for France to be eliminated. I doubt Erik Hamrén and his men have this in mind going into the game.
As a Swede, I do however hope Sweden pull something like this off. Not because I have any quarrel with the French team or country, but because it would be uplifting to see Sweden playing some kind of role at this championship other than the one as whipping boys of group D.
Instead I believe Hamrén will approach this game as a building block for the World Cup qualifiers kicking off this autumn. This is a game at the highest level and even though they have crashed out of the tournament Hamrén will want to milk this game for all that it is worth. The logical decision would therefore be to start the people who will be playing during qualification for Brazil 2014. These are players like Andreas Granqvist and Jonas Olsson instead of Olof Mellberg or Rasmus Elm and Pontus Wernbloom instead of Anders Svensson. It would however be hard to deny a player like Mellberg his last game in the Swedish jersey, if he wants it.
Hamrén will also be reminded of prize money by the chairman of the Swedish FA Karl-Erik Nilsson. €1 million is on offer for a win in the group stage and that is a lot of money for a small footballing nation such as Sweden.
In other news, Jonas Olsson left the Swedish camp after the game against England to be present for the birth of his first child. He came back to Ukraine a father on Sunday and is now available for selection for the game against France. One might argue Olsson could have stayed with his girlfriend and newborn daughter seeing as Sweden are already knocked out. I am puzzled as to whether I love or hate the decision.
Kristopher Karlsson
In another display of poor defending Sweden lost the game, and all hope. With this second loss the Swedes walk the same path as Ireland and are out of the Euros.
I wrote ahead of the tournament that Sweden would be conceding goals this summer. I was hoping they were going to be able to keep those goals down to one per game. But you cannot concede three goals in a game against England and think that you are going to get away with it.
And with another poor Swedish defensive performance it is somewhat ironic that Olof Mellberg scored both (oh well) of the Swedish goals.
One cannot help but feel for the Swedish fans that travelled in large numbers to Ukraine. On Friday there were 18 000 Swedes in the stands offering full support. They were hoping to keep partying in good spirits for at least another four days but were deprived of that.
All in all the Swedish players worked their hearts out and for me; this loss comes down to coaching. When the Swedes went 2-1 up they were always going to need a miracle to keep a hold of those three points.
This team cannot close a game down. And this manager cannot put on a defensive midfielder (Pontus Wernbloom) when he is a goal up. Erik Hamrén talked in the post match interview about having control throughout the game. Sweden had no control, and neither had England. Sweden came out the unlucky loser.
I want to give credit to Anders Svensson who started the game and showed immense character in the centre of the pitch. He closed down Scott Parker and put a hurting on several other English players.
For the near future Sweden are left with the opportunity of causing trouble for France with a victory. One thing is however certain. They will be giving away goals in that game too.
Kristopher Karlsson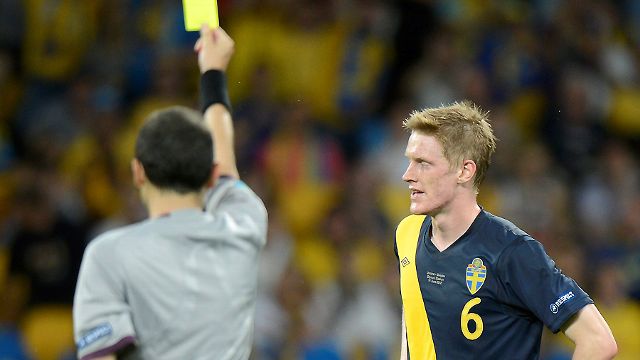 Sweden promised to play this tournament with a new, more attack minded football. They didn't keep that promise. Balls were hoofed long, passing was poor and possession was low. And the Euro 2000 opening game scoreline of 1-2 (against Belgium) was repeated. And as it was then, Sweden might end up bottom of the group, packing their bags early.
All in all it was an abysmal performance from every player on the pitch, with the exception of Ibrahimovic. The tall captain was the only one stepping up to the occasion and his teammates will surely get an earful from both coach Erik Hamrén and Ibrahimovic post match. They will all struggle to look themselves in the mirror after this. And there will definitely be no riding the water slides at the hotel tomorrow.
Before the tournament there has been a debate of who would get the spot along side Olof Mellberg in the centre of defence.  Mellberg lost Shevchenko for the equaliser in a poor display of defending. An action such as that has previously been unthinkable by defensive giant Mellberg. He too, will struggle to look himself in the mirror.
Just like in the pretournament games against Iceland and Serbia, Sweden conceded from a corner. If you're a betting man you would be wise to put your money on Sweden conceding goals from corners against England and France too.
Elmander didn't start the game but his miss with minutes to go makes you wonder if it wasn't for the best. There is absolutely nothing from this match that Sweden can take with them into the game against England on Friday.
Sweden will have to break down and rebuild, and Anders Svensson will have to start in central midfield. One can only hope the Swedish players have the pride to come back from this.
To finish this off in a somewhat positive manner, I would take my hat off for Shevchenko. If it was going to be anyone thrashing our hopes to achieve anything this tournament it would be him. What a legend.
Kristopher Karlsson